After NATO decided to patrol the airspace of the dwarf "Baltic tigers," the sky over the Baltic Sea became a place of confrontation between the aviation of the North Atlantic Alliance and Russia.
Fortunately, this confrontation is so far limited to maneuvering the combat aircraft of the parties and putting photos and video materials into the network.
The Belgian Air Force on their Twitter page posted a photograph of the Russian Su-34 bomber taken through a thermal imaging sight.
In the commentary accompanying the photograph, it is said that during the month that the Belgian air force guarded the Baltic airspace, they made 109 sorties with a total duration of 191 hours.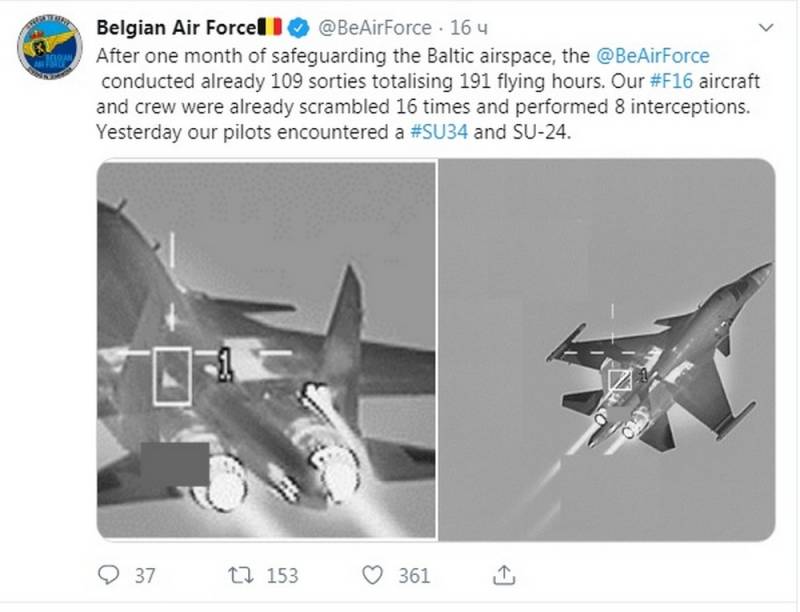 The record notes that during this time, the Belgian Air Force F-16 fighter aircraft took off 16 times on alarm and carried out eight interceptions.
The post also noted that on the eve of the Belgian pilots discovered the Russian Su-34 and Su-24.
According to tradition, in the near future should appear photos or videos with shots of interception aircraft of the North Atlantic Alliance, made by Russian pilots.
By the way, our combat pilots do not sit idly by: only during the week they made 27 sorties, during which they intercepted or escorted foreign aircraft near the borders of Russia.