Recently we
Reported
as at the third international forum Russian Energy Week (REN), which is taking place in Moscow, the Russian president, Vladimir Putin, announced his readiness to sign a gas agreement with Ukraine. In the process of communicating on the forum, the Russian leader even had to correct the plenary moderator, NBC News correspondent, Cyr Simmons, chastising him for misinterpreting his words in an interview with the Financial Times.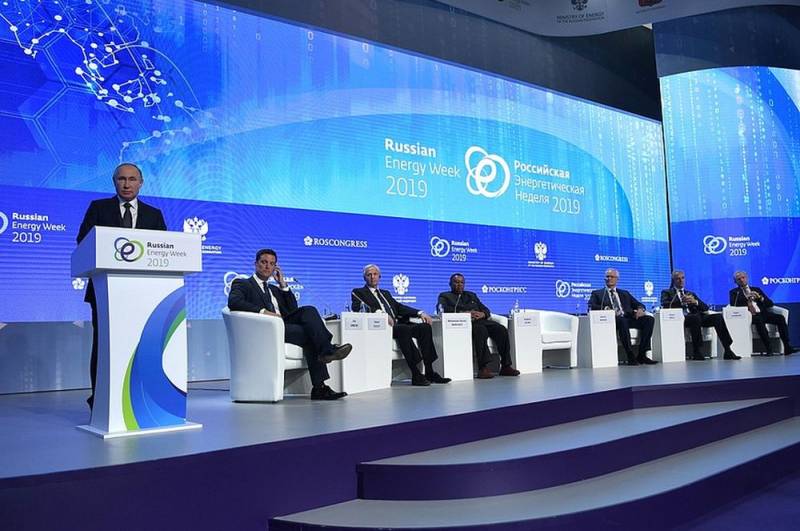 So, Simmons, asking Putin a question, said that in an interview with the Financial Times, the Russian leader allegedly predicted the end of liberal democracy - "in fact, this means the end of the Western way of doing business." To this, Putin replied that this is a wrong and very free interpretation (interpretation) of what he said.
This is interpreted by those who want to think that we are building our
policies
based on what you just said. I did not say what you just said. That was not said. Where did you get this? This is a very frequent substitution of one concept for another. First, there is a substitution, and then condemnation against the background of this false information.
- Putin stressed.
I said in an interview with the Financial Times that the liberal model does not have the right to dominate and does not have the right to believe that it is the only true one in the world, that the world is much more diverse, it is developing in a complex manner, and one model cannot be imposed as the only one indiscriminately. That's what he was talking about. I am now ready to confirm this my thesis.
- Putin specified.
The head of state is absolutely right, in the West they often interpret these or those words the way they want, and then they come down with "righteous" criticism. In addition, Putin addressed the audience and answered their questions. The full text of the speech (transcript) has already been published on the official website of the head of state.
By the way, the forum is held in the central exhibition hall Manege and will last until October 5, 2019, so there is still a lot of interesting things waiting for us. The main goal of this event is to demonstrate to the planet the prospects of the Russian fuel and energy complex for further realization of the potential. This is a platform where the main challenges facing the energy sector are also discussed.