On October 2, 2019, US Secretary of State (Head of State Department), Mike Pompeo, posted on his Twitter account a photo of the Iranian tanker Adrian Darya-1, off the coast of Syria, saying that this vessel was allegedly selling oil to another vessel. However, he did not specify which country the second vessel belongs to.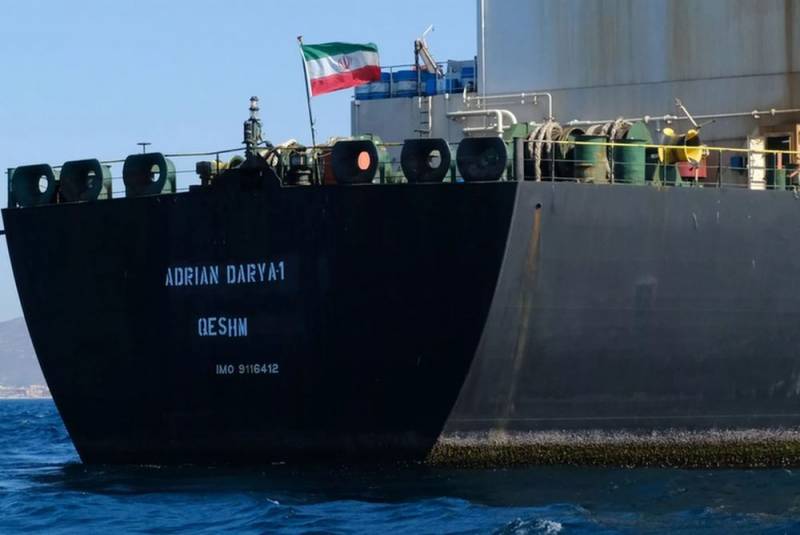 But Pompeo pointedly emphasized that Tehran violated its "obligations", as Iran's Foreign Minister, Mohammad Javad Zarif, promised the United Kingdom that the tanker would not deliver oil to Syria. The image also shows the territory where the Syrian city of Banias and the oil refinery (refinery) are located.
Now he is transferring oil off the coast of Syria.
- wrote Pompeo.
Will Iran make the world responsible if this oil is delivered to Syria?
- he added.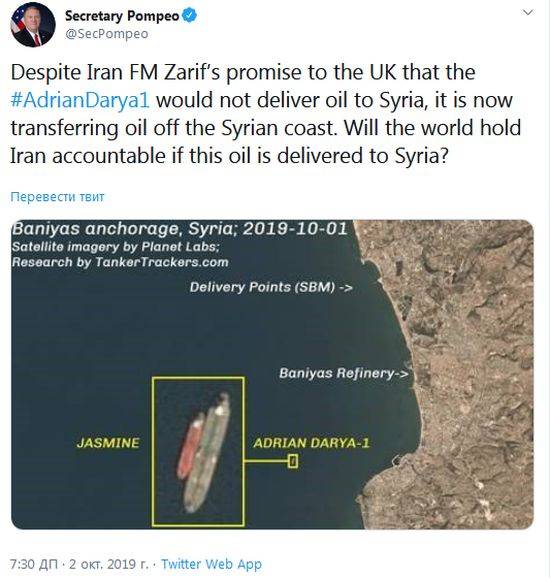 It should be recalled that in July 2019, British special forces captured the Grace-1 tanker in international (neutral) waters of the Strait of Gibraltar and escorted it to Gibraltar (a UK colony), where local authorities unreasonably arrested the ship, its cargo and part of its crew . After this, an international scandal began (since the UN did not prohibit Iran from trading oil and Syria from buying it), accompanied by the detention of British tankers by the Iranian authorities in the Persian Gulf.
After some time (about a month), London and Tehran agreed among themselves. Gibraltar rejected Washington's request to extend the detention of the tanker, citing differences in US and European sanctions against Iran, and released the ship. After that, the liberated Grace-1 began to plow the Mediterranean Sea under a new name - Adrian Darya-1.
By the way, in early September 2019, the Adrian Darya-1 tanker sold oil while at sea. This was announced by the official representative of the Iranian Foreign Ministry, Abbas Mousavi, adding that the vessel is moored off one of the shores of the Mediterranean Sea. Now the chief of the US State Department, and with obvious delay, is trying to tell something, appealing to the world community and demonstrating his impotence.
In turn, the Iranian oil minister, Bijan Namdar Zangane, said his country had tightened security measures for its oil facilities. After which he expressed the hope that all the countries of the region (around the Persian Gulf) have sufficient wisdom and will not increase tension.