Next year, the government will be able to print the "small egg" of the National Welfare Fund. According to the explanatory note to the draft budget for the next three years, in 2020 the NWF will amount to 11,06 trillion rubles, in 2021 - 13,66, and in 2022 - all 16,196 trillion. The money is huge, and it could give an impetus to the development of our country. However, some experts believe that the NWF for the Russian
economics
- a cut chunk. What gives them reason for such pessimism?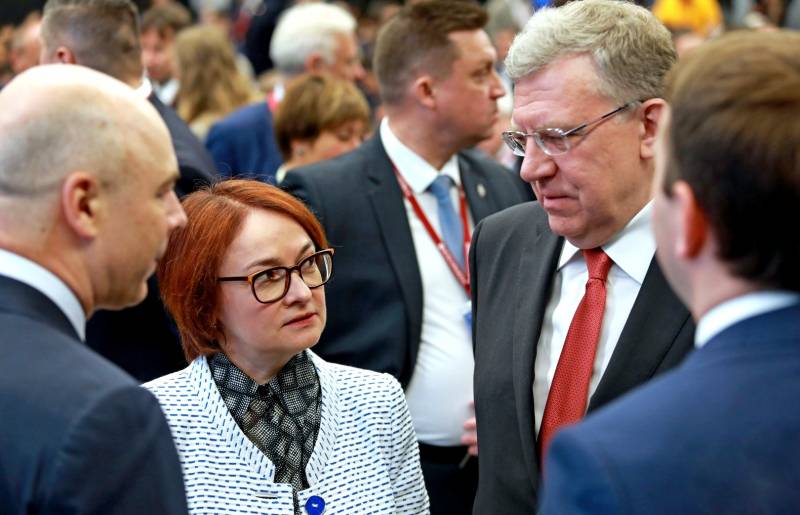 The NWF arose in 2008 "on the wreckage" of the Stabilization Fund. In fact, this is the state "airbag", managed by the Ministry of Finance of the Russian Federation and partially the Central Bank of the Russian Federation. The main source of its replenishment is the oil and gas revenues of the federal budget. According to the so-called "Kudrin's scissors", excess profits from the sale of oil at a price exceeding $ 40,5 per barrel are stored in this "little bottle". According to the established rules, you can use this money only after reaching the liquid part of the fund 7% of the country's GDP.
By itself, the idea of ​​having a "stash for a rainy day" seems quite robust, given the difficult situation in the Russian and global economies. But money should work, and it is advisable not to "be on someone else's uncle." A country that has come under ever-increasing Western sanctions objectively needs full-blown, rather than targeted, import substitution and consistent systemic reindustrialization in order to regain full sovereignty.
But earlier announced plans for the use of the NWF set different priorities. There are three main areas: investing in foreign assets with high returns, financing export loans for foreign buyers and "something there", rather slurred about domestic investment projects. It is stated that options can be combined, but the share of domestic investment should be small so as not to interfere with the CBR's "heroic fight" against inflation.
However, there are loopholes here that allow us not to bring money to the national economy, explains Andrey Bunich, chairman of the Union of Entrepreneurs and Tenants:
We were previously told that as soon as 7% of GDP accumulate in the fund, we will gradually invest petrodollars in our own economy. But as soon as this moment began to approach, it turned out that the money from the fund would still be invested as before. That there will be the same international borrowers, or Western "highly reliable" corporations, or interstate loans directed outside.
The trick mechanism is quite simple. The draft three-year budget is based on the assumption that the volume of the NWF will continue to grow. But what if oil prices go down? What if budget expenditures suddenly increase, for example, for all kinds of compensations to our "suffering" oil workers? The result will be a reduction in the liquid part of the fund to below 7% of GDP. This means that the attraction of unprecedented generosity will end, and the "little egg" will have to be replenished again.
Someone is lucky. These are those who will be the first to receive investments from the reserve fund. But what will it be, highly profitable foreign assets or domestic Russian projects? We will see.