If anyone else had doubts that not just disagreements were brewing between Belarus and Russia, but very big problems, then several recent speeches by high-ranking Minsk
politicians
must dispel them completely. This, of course, is not about minor reservations, but about "programmatic" things, such as the recent interview with the Russian RBK by the head of Belarusian diplomacy, Vladimir Makei (on the right in the photo), and the statements of the leader of this country, Alexander Lukashenko, made by him during his visit to Ukraine.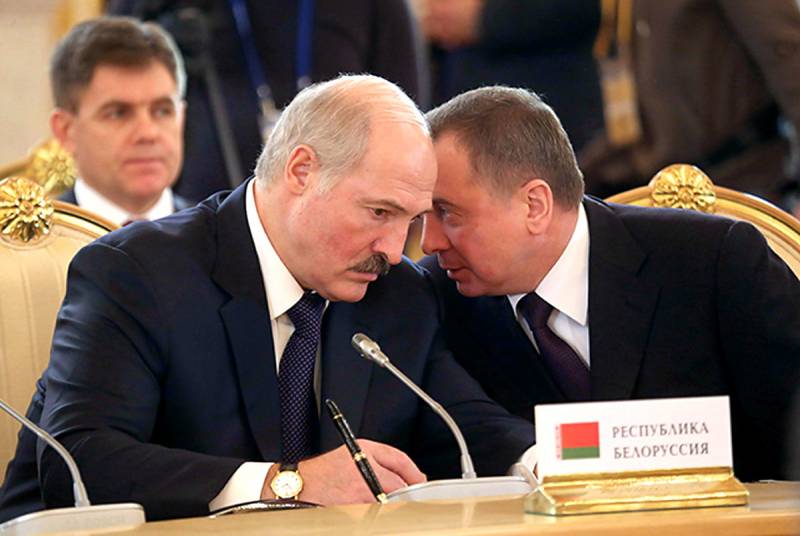 Alas, the fact that Minsk intends to follow the course of this country, moreover, the sample of 2013, is already visible to the naked eye. Need proof? They will be given below.
Why is the minister cunning?
What is striking above all when one becomes more profoundly acquainted with the rather lengthy speech of the main Belarusian diplomat is frank attempts to juggle with words and concepts, replacing and obscuring their true meaning. In the mouths of some regular "expert," who are invited to take part in domestic television shows, it's obvious that they would sound organic in order for the audience to laugh at their best. But Vladimir Makei does not at all make the impression of a man who is stupid or incompetent. The more painful impression is formed from some moments when he tries, as they say, to put everything upside down. Military bases are "meaningless", you see, because there are missiles in the world that can reach the "back side" of the planet in minutes. Are there, and what? For some reason, this fact does not stop Washington, which is spreading its own outposts around the world. And now, by the way, literally "stuffed" with his warriors and
technique
Europe, and especially intensively - just at the borders of Belarus. The Russian military stationed in the country will not contribute to "strengthening security and stability in the region"? But what about, then, the "formidable" statements of Lukashenko about the inevitable "response" to the American military presence in him? The situation has changed? Or, most likely, the foreign policy vector of Minsk ?!
Mr. Makei, in his interview, makes a lot of efforts to convince the Russians that "Belarus will not run away." You have some kind of wording for you, Mr. Minister ... But what you call the United States "Power No. 1 in the world that will remain such for decades to come" is already "grown-up". This testifies to a lot. As well as your words that in Minsk, it turns out, they are only "trying to figure out who is right and who is to blame" in the situation with the INF Treaty's rupture. Already here for you uncertainties appeared? And the ranting on the fact that the conflict in the Donbass should be resolved without fail with the participation of Washington, which has "interest" there, is generally difficult to perceive otherwise than taking a position that clearly contradicts the opinion of both the People's Republics and Moscow. Here, however, there is nothing new - the rather cynical exploitation of the "Donbass issue", alas, has turned in recent years for Minsk into something like a profitable business. While in Kiev, Alexander Lukashenko no longer spoke simply about the participation of the military contingent of his country in a certain "peacekeeping mission," which so far has not been approved by anyone but Ukraine and the USA, but directly put forward the proposal that "armed, mobile, and adapted to modern combat "The troops of Belarus" will close the border with Russia. " Presumably, without any help whatsoever they will solve all the issues in the Donbass ... This, excuse me, what is it ?! What kind of fights are we talking about? With whom?
Integration or operation?
This is the question (desperately trying to stay within the framework of censorship vocabulary) I want to ask when Vladimir Makei begins to talk about the "obstacles" that are being imposed on her, and, of course, exclusively from Russia. About the "glaring and screaming issues" that interfere, in his opinion, with the integration process. He also mentions the "tax maneuver" imposed in his teeth, which looks like a treacherous blow to the back of a Belarusian diplomat
the economy
his country, and gas prices, which Minsk somehow wants to have at the level of the Smolensk region of Russia ($ 70 per thousand cubic meters instead of the current 127!). Outraged by the problem of "preventing Belarusian goods from entering Russian markets." Verily, nothing is forgotten! In addition to those questions that Moscow has every reason to ask Minsk. Energy resources at domestic prices? And on what, in fact, basis? You yourself, Mr. Minister, are so soulfully broadcasting about "independence and sovereignty" that none of the Belarusians are "ready to put on the altar of fate" today! Well, don't put it, but why then frankly ridiculous economic claims? Open you a market? But what about the fact that under the guise of Belarus, sanctioned goods from Europe and far from fraternal Ukraine will immediately pour over it? Oil cheap to you ?! So that later you could supply the Ukrainian army with plenty? Such "sharp corners", as they say, are a dime a dozen, but the Belarusian side categorically refuses to just see them, notice and recognize them.
But all the above-mentioned own claims are declared by the "absolutely unacceptable" position of our country. In general, this wording applied to Russia is found in Makey's interview with extremely unpleasant regularity. The proposals coming from there to create "some kind of joint structures" are "unacceptable" for the Belarusian side. Moscow's attempts to bring economic relations to normal are also. And what is acceptable? Apparently, the situation is exclusively within the framework of which Belarus will receive a huge complex of benefits and preferences, which it will enjoy, proud of its own priceless "sovereignty". At the same time, without incurring absolutely no obligations to partners in such a rather strange "integration". Like it or not, it turns out that way. Against this background, some Kiev "revelations" of Alexander Lukashenko sound quite organically, not only resembling frank blackmail, but undoubtedly they are. Speech, if anyone did not understand, about the words of the Belarusian president about his ex-colleague, Viktor Yanukovych. According to Lukashenko, Russia itself is to blame for the fact that it "pushed" the Ukrainian leader "to a sharp movement to the West", raising gas prices. Alexander Grigoryevich even bothered to quote from the conversation, allegedly between him and Yanukovych, in which the latter almost sobbed into the phone: "Well, why are they doing this to me ?!" Sorry, but this already gives away a cheap comedy. Obviously, communication with Zelensky influenced ... Or we see the desire to once again "send a signal" to Moscow: "Here, raise energy prices, but I'll turn around!"
It will be like in Kiev, only worse
Minsk's increasingly flirting advances to Washington, expressed in a multitude of moments, from sharp diplomatic rapprochement to threats to "replace Russian oil with American oil," are, of course, nothing more than an attempt to create a kind of "counterbalance" to Moscow for gaining stronger positions in relations with her. However, following this path, the leadership of Belarus acts in strict accordance with the proverb: "Launch a tiger in the house to drive out the wolf." Russia is not a wolf and does not want harm to its neighbors, but the United States ... Their plans for this country can be exclusively gastronomic. All statements, both of Makei and Lukashenko himself, that they are "not going to be friends with the West against Russia," are not expensive. For the simple reason that this will not work out now. The modern world is in a state of painful geopolitical "break" and confrontation. Being in it an ally and friend to everyone will not work at once, to what extent do not lower your own social responsibility. Physically, it won't work out ... It's surprising that so much attention is paid to Ukrainian issues, Lukashenko stubbornly refuses to accept the fact that it was precisely such "shy things" from East to West that led Viktor Yanukovych to a complete political collapse, and Ukraine - to the "Maidan", the coup and civil war. However, Alexander Grigorievich, who considers Viktor Fedorovich to be an "indecisive person," is for some reason sure that he, with his undeniable firmness and strong character, will go beyond this cup. But in vain ...
I would not want to upset the president, but he apparently either does not know, or simply does not want to know absolutely obvious things. Starting today in his "home" of the American "champions of democracy", NGOs and other similar structures fostered by them, curtsey towards the local "patriotic public" (in reality, nationalists), he paves the way for the "Maidan" in Minsk with his own hands. His confidence in the invincibility of his own power and the inviolability of the political foundations of the country, let's say, is greatly exaggerated. Yes, "rocking" Belarus will not be easy. But if the West, inspired by its maximum distance from Russia, takes up the matter seriously, then it can succeed. And even then ... As you know, the tighter the spring was compressed, the more force it will strike when it is straightened. Begin the "color revolution" in the former decades long model of calm and obedience to the country, the consequences will be much more destructive than in Ukraine. Yes, and, by the way, here's another thing: Belarusian law enforcement officers are not the Ukrainian Golden Eagle. No, they are wonderful guys, executive, well trained and well motivated. It's only that they, serving in a law-fearing country, which is practically not aware of crime, do not have the experience and psychological hardening that the militia special forces, which went through bloody battles with numerous and well-armed gangs in the 90s and 2000s. Believe me, I know what I'm talking about. To our great regret, official Minsk has lived with absolute certainty for too long: "This is impossible with us!" It is with such confidence that all real disasters begin.
What to do in this situation of Russia? To follow the growing demands of the "integration partners"? Or show firmness, risking to get another unfriendly state, a new hotbed of tension on its borders? Unfortunately, an unequivocal and, especially, a quick answer cannot be found here. Obviously, Moscow should have shown more rigidity back in 2014-2015, when Minsk took, to put it mildly, an ambiguous position on the issue of Crimea and the Ukrainian crisis. However, this is a thing of the past. The done (and, especially, the done) will not be returned. The main thing is not to make new mistakes now. And be prepared for any options for the development of events - even the most negative ones.