The head of SpaceX corporation, Elon Musk, in the framework of the event dedicated to the anniversary of the successful launch of the Falcon 1 rocket, demonstrated a ready-made prototype of the future "moon" spaceship Starship Mk1. The length of the device is 50 meters. Its test launch will take place in the next two months. During the upcoming tests, the promising spacecraft will have to rise to a height of 20 km and then make a smooth landing.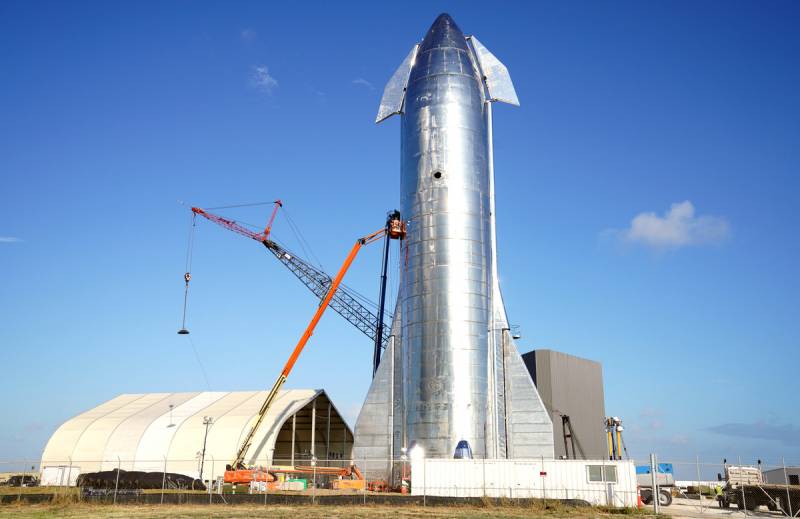 Second apparatus with similar
technical
characteristics built on Cape Canaveral (Florida). Then the company plans to begin assembling the third and fourth prototype of the ship, on which Raptor engines will be installed, designed to work in airless space.
According to the statement of Elon Musk, the first test orbital flight of Starship Mk3 with Super Heavy accelerator will take place within six months. A third prototype will begin to be assembled in Texas next month. In turn, the fourth model will be built in parallel in Florida.
The head of SpaceX emphasized that 100 Raptor engines would be needed for the test period of the corporation. Now one such unit is collected within 8 days. But by the first quarter of 2020, the company plans to accelerate production to one engine per day.
Among other things, Musk told about some design innovations of the future interplanetary ship. For example, its lining will be made not of hydrocarbon fiber, but of stainless steel. In addition, a ceramic tile heat shield will be installed at the bottom of the "full-fledged" Starship.
Recall that the final version of the Starship for flights to the moon will be 118 meters in size and will be able to deliver up to 100 tons of payload to our natural satellite. At the same time, the device will be able to take on board up to 100 people, and its refueling is planned to be carried out directly in orbit through a special tanker.