Greek media reported that on September 29, 2019, in a refugee (migrant) camp on the island of Lesbos (Moriah reception and identification center), riots erupted into pogroms and an open confrontation with law enforcement officers. The situation got out of control when refugees (migrants) tried to release the detainees by the police. After that, the authorities were forced to send special forces to pacify.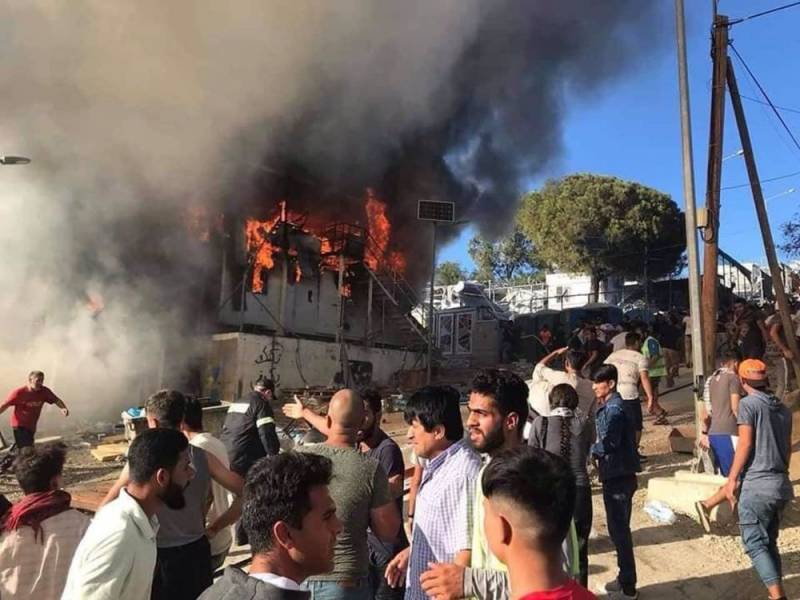 Raging refugees (migrants) even attacked firefighters and destroyed their cars and equipment. Firefighters, of course, were forced to leave this territory.
After that, law enforcement officers began to use tear gas and stun grenades. In addition, law enforcement officers had to not only fend off the attackers themselves, but also to separate the fighting refugees (migrants) from different ethnic groups.
The thing is that the camp is designed for only 3 thousand people, and at least 12,5 thousand are located in it. All these people came from different countries of Africa, Asia and the Middle East.
In the hope that they would soon be sent to the European continent, refugees (migrants) set fire to the container houses in which they themselves lived. It is known that a woman and a child have already died. A mass exodus began from the camp.
It is reported that the Greek authorities are deploying additional forces to Lesbos with military transport aircraft. Local authorities are sounding the alarm, reporting an extremely difficult situation and danger to residents.