September 27, 2019, it became known that the US president, Donald Trump, at a meeting with large Russian officials in the White House Oval Office in 2017, said he was not concerned about "Russian interference in the US election" in 2016, as Washington does the same in other countries. The Washington Post wrote about this, referring, as is fashionable recently, to three high-ranking, but very knowledgeable sources (officials) who wished to remain unnamed.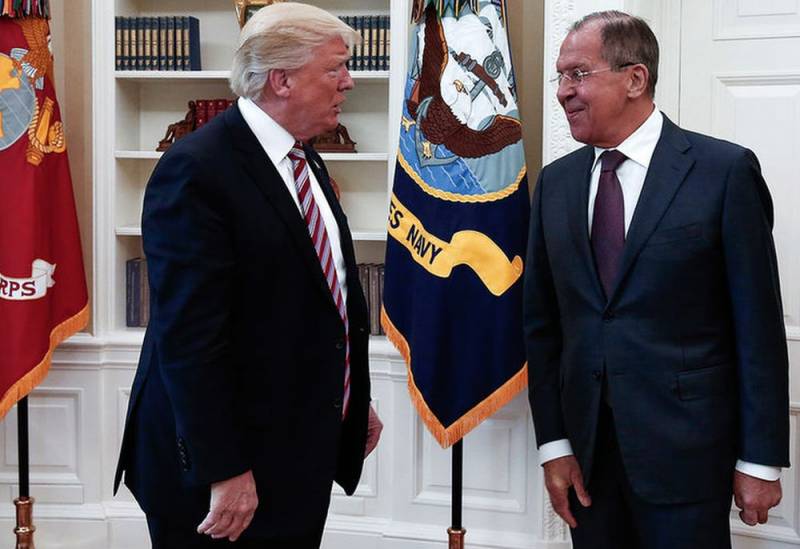 The Washington Post clarifies that the conversation on this subject took place at Trump's "notorious" meeting with Russian Foreign Minister Sergei Lavrov and Russia's ambassador to the United States, Sergei Kislyak.
At the same time, "informed high-ranking sources," to put it simply, gossip-informants of the newspaper from among small clerks, note that access to information about this meeting was unusually seriously limited. For example, only a few individuals who had the highest access to classified information were admitted to the memorandum following negotiations. This was supposedly done in order to prevent Trump from announcing the words.
The most curious thing is that in the document with Lavrov's statements, the degree of secrecy was even higher (even less people got access). Moreover, it turns out that Trump complained to Lavrov that "this whole thing with Russia" only spoils relations between Moscow and Washington.
I can have a great relationship with you guys, but, you know, our press ...
- Trump allegedly said.
In addition, The Washington Post claims that it was at that meeting that Trump revealed to Russians the secret information about the source of American intelligence on ISIS (an organization banned in Russia). Trump also said that on the eve of the dismissal of the FBI director, James Komi, put "great pressure" on him.
It must be recalled that in May 2017, the "Russian case" started in the USA, which Trump called the "witch hunt". It was then that Robert Müller, authoritative in the United States, was appointed special prosecutor. However, for two years, the investigation did not reveal a conspiracy of Trump and Moscow.