September 25, 2019, in the Norwegian port of Tromso, a large-scale fire broke out on a trawler (fishing, fishing vessel) of the Murmansk trawl fleet "Nestling Harbor". The hydraulic oil caught fire. After that, almost a day, 22 hours, there was a fight with fire.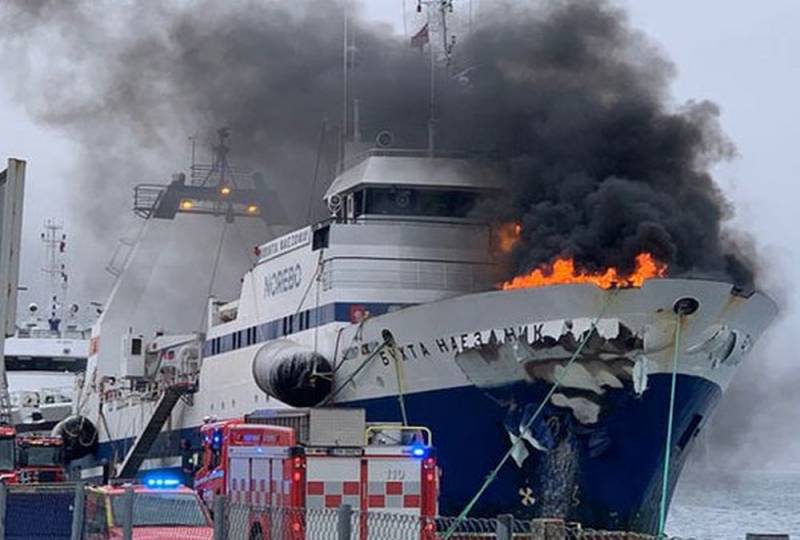 A Russian ship entered Tromsø for a crew change and scheduled repairs. The ship, with a displacement of about 3 thousand tons, was built in Norway in 1991. All these years, it has been used for haddock and cod fishing in the North East Atlantic.
According to preliminary information from the Murmansk trawl fleet, the fire was the result of careless actions of the crew during the repair. Attempts by the crew and firefighters to eliminate the fire, or at least to localize it, were unsuccessful. It was not possible to cope with the fire and there was a real danger of an explosion of an ammonia tank located on the vessel.
Police began evacuating people from the 300-meter zone around the burning ship. Firefighters even suggested that the trawler be specially lowered to extinguish the fire and avoid an ammonia explosion. However, the ship, apparently, sank on its own, right next to the pier (the moment of immersion is in the video).
It is reported that at present all 29 members of the crew (team) of the ship have been evacuated and are on shore. 12 of them were examined in the hospital due to possible poisoning by combustion products.