On September 25, 2019, at the 74th session of the UN General Assembly (GA, General Assembly) in New York, a meeting was held between the President of Ukraine, Vladimir Zelensky, and the President of the United States, Donald Trump. At the same time, the Western media drew attention to Zelensky's facial expression (facial expression and reaction) after Trump mentioned the Russian leader, Vladimir Putin.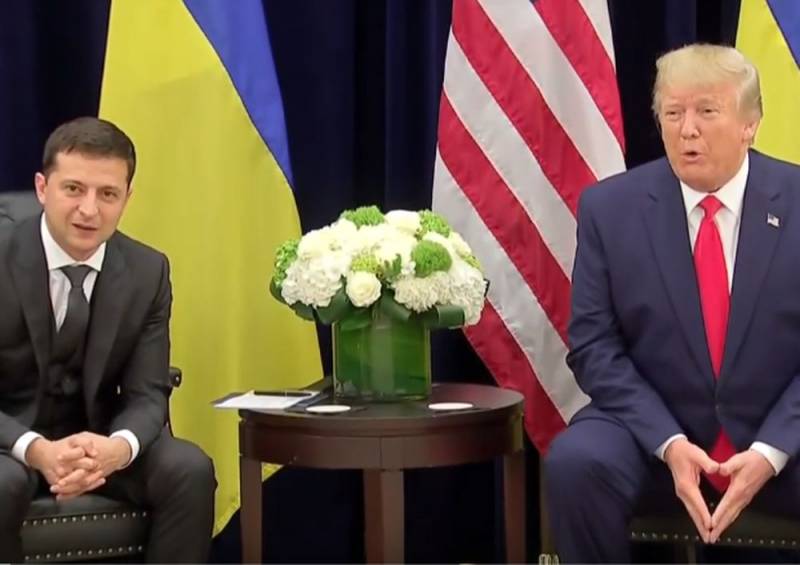 After that, the Western media began to openly ridicule the sad Zelensky. Moreover, journalists and bloggers, on their pages on social networks, often did not hesitate at all in epithets.
For example, an American journalist, Josh Marshall, having published a fragment of the video, said that "the look of existential terror falls on Zelensky's face."
He (Trump - ed.) Raved about "30 thousand missing letters" by Hillary Clinton. He accused Barack Obama of Russia's annexation of Crimea. God alone knows that Zelensky was thinking about all this. (...) But the play of dementia came to an end when the president told Zelensky: "I really hope that you and President Putin will be able to meet and solve your problem." Zelensky's expression was priceless.
- wrote Esquire, which most fully reflects the general idea in the West.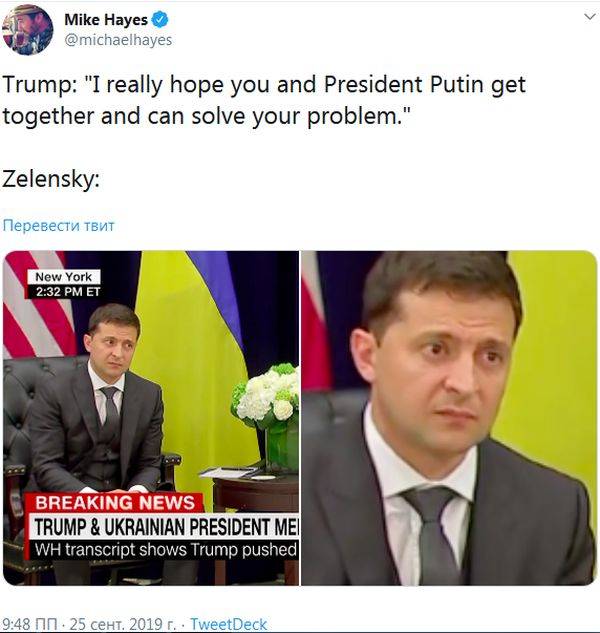 As for the public in Ukraine and Russia, the reaction of the public was even more "talking". The bulk of users simply published various videos about what is happening in the Donbass. And in this case,
political
preferences do not matter, since the vast majority of people require a cessation of bloodshed. Everyone was tired of the war, especially the inhabitants of Donbass.
In this regard, we provide the full version of the video meeting Zelensky and Trump, so that our readers can see for themselves the above. As we already
wrote
earlier, in the expert community they are cautious about any statements of Zelensky. This is due to the lack of political experience of the Ukrainian leader. However, the chances of ending the war in the Donbass under Zelensky look really higher than if the "Tomosos" Petro Poroshenko remained the president of Ukraine.