Recently we
Reported
as the fighters of the Syrian Arab Army (SAA), in the Syrian city of Khan Sheikhun and its environs, liberated from jihadist "barmalei" and "moderate" terrorists, they discovered 10 underground cities (connected by communications of fortified areas). And so, the foreign journalists were shown the training (exercises) of the Syrian special forces at the training ground near Damascus, where they were able to personally observe how Russia is preparing the special forces of Syria.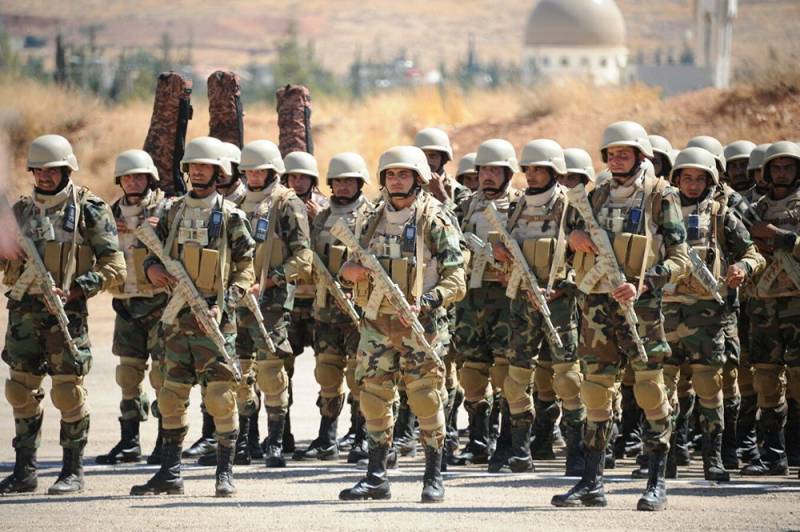 At the mentioned exercises, SAA special forces trained by Russian specialists (military advisers, consultants, instructors) showed how it destroys the fortified area of ​​conditional terrorists. More than fifty media representatives from all over the world (Greece, Spain, Italy, Canada and other countries) also watched the Syrian mortar men and artillerymen smoothly grind the defenses of conditional militants.
It should be noted that the training course takes only two months. After this, combat coordination begins. Russian specialists pay special attention to the training of qualified Syrian sappers and engineers. And this is not surprising, since each settlement liberated from the "opposition" has to be literally restored and thoroughly cleared. In addition, many territories of this unfortunate country are really littered with unexploded ordnance and other explosive "toys", including mine traps.
The training course, without fail, also includes first aid in the field, which increases the chances of survival. So, the journalists watched with interest how the Syrian commandos operate in conditions as close as possible to the combat ones.
It must be recalled that Russia has been training Syrian commandos for more than three years. The Russians are training their Syrian counterparts in everything, including tactics of warfare.
The civil war in Syria began in the spring of 2011. In the summer of 2015, the situation of the official authorities of Syria became critical. Most of the country's territory was already under the control of the "opposition" or ISIS (an organization banned in Russia). In September 2015, the military operation of Russia in Syria began. After that, a systematic liberation of the country's territory and the destruction of militants began.