A fundamentally new SkyWay transport system, developed by Belarusian engineer A.E.Yunitsky, was introduced at the end of summer as part of the EcoFest event. According to the designer,
technology
string transport will reduce energy consumption by 5-7 times compared to automobile. Moreover, it is more durable and does not pollute the atmosphere.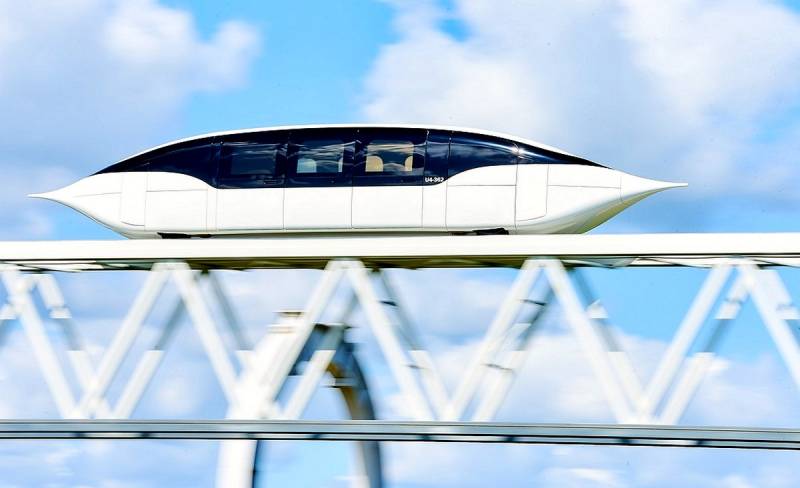 The essence of the SkyWay transport system is that small passenger modules move above the ground thanks to rail-string structures. In the latter, a continuous steel (or reinforced concrete) beam is used, equipped with a rail head and reinforced with pre-stretched strings.
The height of the supports can range from several meters to several tens of meters, which, in turn, reduces the aerodynamic drag of the capsule, and as a result, energy consumption for movement. Moreover, such structures are several times stronger than traditional bridges and overpasses.
In addition, the construction of such "airways" is much cheaper, due to the continuous structure of the string rail, which requires fewer fastenings and other building materials. For comparison, the cost of building one kilometer of a conventional flyover is about $ 100 million, and the construction of a similar section of the bridge for SkyWay will cost 3 million.
As for the passenger module, it is equipped with a synchronous traction motor with a wheel drive. The latter has a high torque and is able to quickly and uniformly accelerate the capsule to 500 km / h. The unibus is controlled by an intelligent system that continuously reads and analyzes the situation inside and outside the module. This technology allows you to completely eliminate the human factor and reduce the interval between capsules up to 20-25 seconds.
One passenger SkyWay cabin accommodates 10 people. According to the developers, the peak throughput for a bi-directional system with 20-hour operation will be 720 thousand people per day. At the same time, the rail-string construction absolutely does not harm the environment and does not violate the landscape, as it does not require soil extraction.
It is worth noting that at the moment 4 models out of 11 developed have already passed certification. Work on the innovative transport system is 86 KB. 400 thousand investors from around the world supported the project, and in Dubai it was included in the infrastructure development plan.