The world's largest international airport, Daxing, officially began operations in Beijing, China. This is reported by Chinese media. The first flights have already taken place on September 25, 2019, although service was supposed to begin on September 30, 2019.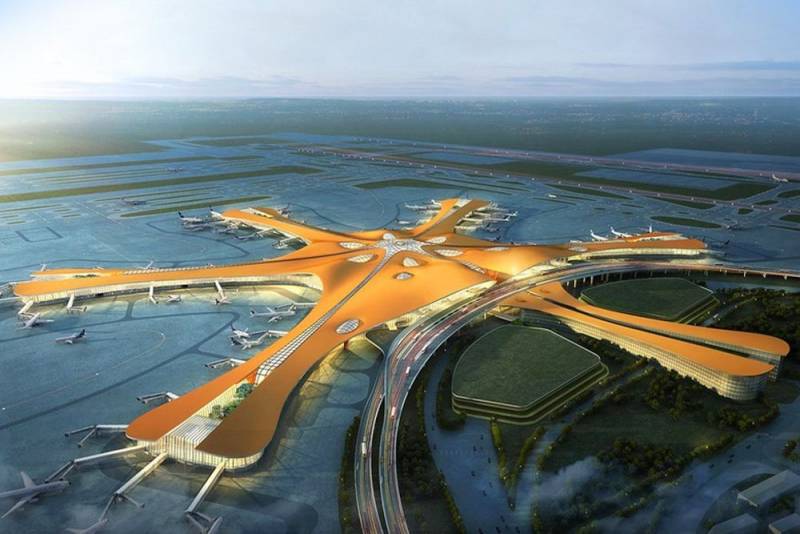 As it became known, now all airlines that are members of the SkyTeam alliance will move to the new airport, and airlines that are members of the Star Alliance will remain at the Shoudou (Stolichny) international airport. By the way, the Russian state-owned Aeroflot is a member of the SkyTeam alliance, so it will move to a new airport.
The Dasin Airport was built for five years. Its construction was completed on June 30, 2019. It is located 46 kilometers south of the center of Beijing. The airport has 4 runways. He will be able to take up to 620 thousand flights a year. By 2025, its throughput can reach 72 million people. He will be able to handle up to 2 million tons of cargo per year.
The roof of the new air harbor is already recognized as the world's largest steel roof of the airport terminal, which is equal to 25 standard football fields in area. At the same time, the airport building is recognized as the world's largest separate building without structural seams. The area of ​​the terminal building is 700 thousand square meters. The length of the "sleeves" is about 600 meters.
It should be noted that directly under the terminal building there is a railway station of 5 lines, 270 meters wide. Trains under the terminal can move at a speed of 300 km / h. A cushion pad has been created along the entire building to compensate for possible vibrations. The total investment amounted to about $ 11,7 billion.