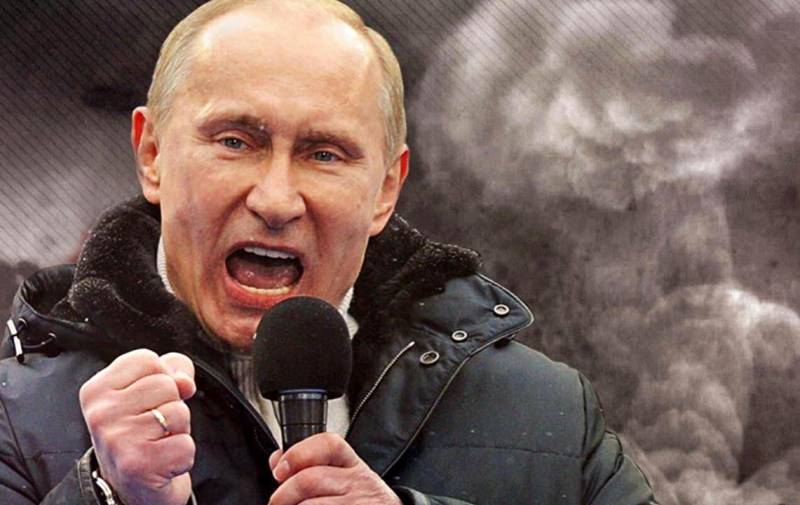 Over the past week, a number of Western (primarily American)
politicians
very significant statements were made regarding our country. Each of them in itself causes concern, but when summed up and compared with one another, all these messages create a completely alarming picture.
It is very likely that our "friends" have finally decided on plans for how and when they are going to end Russia, which does not allow them to remain "world hegemons". Naturally, they intend to do this by completely and completely eliminating it from the geopolitical "chessboard". Which way? Now let's figure it out.
"Maidan" in Moscow has already been appointed
The most, perhaps, the most aggressive, and at the same time cynical, frank can be considered a "farewell" interview, given, in fact, by the former US ambassador to Russia John Huntsman. This diplomat, who was about to leave our country, said that her future was "uncertain" and "in the coming years" she was expected to "quite interesting events." And even expressed regret that he would not be in their midst. Well, here you can understand the ambassador, of course, it's possible - he've been preparing a coup in Moscow for so many years, and when it comes to business, he, poor thing, is pushed aside. The fact that, speaking of the "fascinating and unpredictable future" of our country, Mr. Huntsman in mind has precisely the "Maidan", to which he and his colleagues so carefully push her, there is not the slightest doubt. After all, he lavished his main enthusiasm in the process of his speech to those citizens who "wanting justice, take to the streets." And - attention! - expressed great hope that the "changing patterns" caressing his eye, which the American sees in the ever wider spread of protest moods, will continue until the "parliamentary elections of 2021 of enormous significance"!
That's what ... The main blow to Russia will be delivered this year. Already now there can be no doubt. Everything that is happening now is just a rehearsal. The entire parade of "oppositionists", from professional "protesters" against everything in the world, to long-standing clients of the US embassy, ​​such as Navalny and the company, to outright frank freaks, like a raging "shaman" with a company, is just a casting. The preliminary selection of those who two years later will have to turn into "rulers of thoughts" and, accordingly, the new engine of the "revolution", which, finally, to the great joy of Washington and its allies, will sweep away Russian statehood to hell. The established schemes do not change - the white-tape "swamp" devils came into the light of day, as we all remember, also after the Duma elections that they declared "dishonest". Then it didn't work out, and now Russia is beginning to be "rocked" and split up ahead of time. To be sure, without options ... The West simply has no other way. Speaking recently at a meeting of the NATO Military Committee Joseph Dunford, the head of the Joint Chiefs of Staff of the United States admitted: "The Alliance has practically lost military superiority over Russia." Translated into a normal language with a tolerant-bureaucratic language, this undoubtedly means: "Guys, we are completely ... behind the Russians!" What is left? Only trying to destroy our country from the inside is what the stake is on.
Tame Putin
However, according to some, rather vague, but noteworthy data, the West may nevertheless make another attempt to reach an agreement with the Kremlin. Of course, on its own terms, which this time will be unprecedentedly tough. In the field of foreign policy, Moscow will no longer be required to partially, but completely surrender its interests in the entire post-Soviet space: by only one "reconciliation" with Ukraine, in the form as it is imagined in Kiev (at least for a start - the surrender of Donbass without any there "formulas" and the preservation of gas transit on conditions that are onerous for us), the matter will not be limited. Now on the agenda is Russia's withdrawal from Transnistria and refusal to integrate with Belarus. It is not for nothing that Chisinau and Minsk have recently become the objects of the most steadfast attention from the United States among all the post-Soviet capitals, pushing even Kiev aside for some time. One "demobilization chord" of Bolton's grandfather was worth something. Ukraine is already a US colony, but in the Belarusian and Moldovan directions Russia still retained some positions. This should be fixed! In addition, the most important foreign policy concessions will have to be minimization of cooperation (primarily military and energy) with China, and "normalization of relations" with Japan, the first step of which will be the presentation of Tokyo to the Kuril Islands without any conditions. Questions about Venezuela, Syria, Iran will probably be raised a little later ... However, the above is more than enough - don't you think?
Demands in the field of domestic policy boil down mainly to "ending repressions" and "democratization". After all, it's not without reason that one reproach is pouring from Washington today on Moscow - you beat demonstrators, you offend the sectarians, you are still doing something wrong ... In fact, all these claims mean a very specific desire of our American friends: that the current government would not resist attempts arrange a "color revolution" in the country, and accepted it as an inevitable fact. Ideally, having dismissed the Russian Guard, it quietly left the Kremlin through the back door, simultaneously dusting its heads with ashes. Do you think that the local media in vain with the strength and monotony of a hammer hammering piles are hammering into the minds of Western residents the idea that "Putin's reigning power is being weakened," "the Kremlin's dictatorship will end soon," "Russia is ready to rebel to reset the rotten regime" and like that? No way. This is also part of the preparation, and very important. Oh, it's not without reason that Garry Kasparov is mad at the pages of The Washington Post, insisting that "Putin is losing power" and calling for the creation of a "united front of democratic nations" that will send Russia that he hates "into deep isolation"! Such as this ex-grandmaster without a team and mouth will not open. So there is a team. And the very "cruel sanctions" that almost all US official representatives are threatening today with us will, if anything, be introduced "at the request of the best minds, honor and conscience of Russia".
Green light for the "fifth column"
In the light of all the above, in no case can one ignore the demand (not a request, not a recommendation, but a demand!) Put forward all this week by the European Parliament to our country. The malacholous "figures" gathered there not only adopted a resolution condemning "Stalinism, Nazism, and other authoritarian and totalitarian regimes" (at the same time, mind you, almost for the first time our country was mentioned not just that, but before the Third Reich ), they also expressed "deep indignation" that "the current Russian leadership is making every effort to conceal the crimes committed by the Soviet regime"! Naturally, they want these very "atrocities" to stop whitewashing, thereby waging a "dangerous information war against a democratic Europe". Russia, according to European parliamentarians, again needs to repent and start celebrating the day of heroes of the fight against totalitarianism. May 25, yeah ... Well, this, we must understand, just instead of May 9. Indeed, if you suddenly assume for a second that you and I were "seduced" by all this Euro-balances, then what then can be Victory Day ?! It's necessary to be ashamed, not to hold parades ... But did you really think that Warsaw, Sofia, Prague, who so intensely lately lately started about the "Soviet occupation", do so solely on their own initiative and by virtue of the historical amnesia that hit the local authorities ? No, gentlemen, everything is much more serious here. This is a system, this is a clear plan for a well-thought-out campaign. Just Europe (and not only it) once again goes to Russia.
Again, as we remember at the time of the night, "perestroika" is ordered to abandon everything: from memory, from pride, from self-esteem and the like, things that are completely unacceptable for Russians from the point of view of the "civilized world". Do you know what is the worst thing about all this? The fact that there are those in the country who are ready to do this! The idiotic "peace march" in St. Petersburg, whose participants with for some reason written in English (wondering why?) Posters and colorful balloons in the style of gay parades, opposed the "Syrian adventure" and "militarization of Russia", gained only 30 people. But it all starts with a small ... This, as I said, is only a rehearsal. The premiere is ahead. And in the West, a powerful choir is already being prepared, ready to pick up any moaning about "trampled democracy" in Russia. They rehearse there too. Khodorkovsky's concocted "letter against political repression", without hesitation, waved the 77 "intellectuals" and, in general, "best people" there — some Nobel laureates, former presidents, and the like. Especially touching is the presence of two screenwriters of the Game of Thrones on the list of signatories. Russia mixed up with Westeros, clowns? Be that as it may, the mechanisms to protect the head of the mournful "people's saddlers" and "one children" from the upcoming barricades of the Russian "Maidan" are already being worked out with might and main.
By 2021, by and large, there was nothing at all. And if American diplomats broadcast in plain text about the "unpredictable and amazing" events that should happen in it, there can be no questions as to what exactly they planned. The question is different - will Russia be ready for the coming storm on it?