Despite a surplus budget, the Russian Ministry of Finance is considering starting to borrow money again on the foreign market. However, this is now supposed to be done not in dollars, but in yuan. How expedient are such experiments now, when the "little egg" is jammed to the brim, and the Chinese currency is constantly devaluing?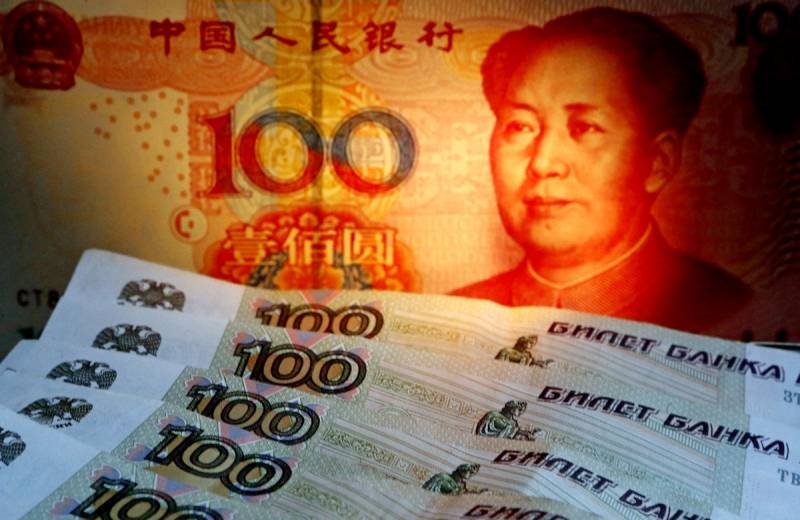 The government is looking for options for external borrowing outside the dollar zone not from a good life. Recent US sanctions "for the Skripals" have banned US residents from acquiring sovereign government bonds of the Russian Federation on the primary market. The dollar is no longer "our all," and you have to pay attention to other currencies. The Ministry of Finance explains:
Naturally, we will first focus on reserve currencies outside the dollar zone. There is something to develop there - the Euro curve and the RMB "point".
But how justified is it today to get into these "points" and "curves", gaining 3 billion debts in dollar terms per year? The position of our country is in many ways unique.
At first
, last year, the CBR radically reduced its investment in the US
the economy
. The volume of assets denominated in treasuries declined from $ 96 billion to $ 10,848 billion as of last month. Instead, the Central Bank shifted its international reserves of gold, euro and yuan.
Secondly
, Russia today has one of the most modest external debts in the world, which stands out among developed and developing countries. Moreover, thanks to the "budget rule", the excess returns from oil sales and other reserves of the Central Bank of the Russian Federation are already in excess today enough to pay off all government debts at once.
Thirdly
Based on their current oil prices, the federal budget will be surplus for the next few years.
Finally, instead of external ones, the government can turn to internal sources of borrowing, as there are enough people who want to earn extra money on Russian bonds. All over the world, rates today are either minimal or completely negative.
So why should we go to the "RMB point"? Financier Mikhail Nikolaev explains this as follows:
This will expand the funding opportunities for Russian companies when trading with Chinese partners in national currencies. Secondly, it will help develop the national financial market.
Financial expert Maria Chizhevskaya supplements what has been said with the thesis about the need to diversify debt obligations in case of serious exchange rate fluctuations of currencies. However, it should be noted that today the yuan is not the most reliable currency, since Beijing constantly devalues ​​it. Also, the coupon rate on such bonds will be higher, in addition, it will be necessary to reverse convert from Chinese to American currency for settlements with foreign partners.
In this context, it would be more reasonable to appeal not to the renminbi, but to the euro.