Recently we
Reported
how the Ukrainian authorities began to accuse Moscow of disrupting the "Norman Summit." And now, the Ukrainian media is already escalating panic in society and showing fear. However, this is their standard behavior, which has been observed throughout the past five-year period.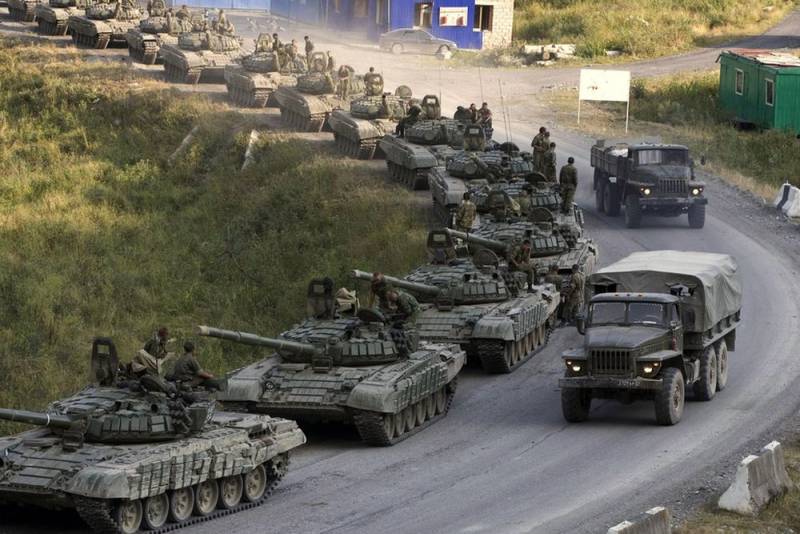 This time, the Ukrainian "patriots" were excited by the video with a decent column of Russian tanks and supply vehicles, which were supposedly fixed on the territory of Russia, halfway between Taganrog and the state border (the village of Rodionovka in the Rostov Region).
Ukrainian media claim that this video was shot on September 19, 2019, only 15-25 km from the Russian-Ukrainian border in the Mariupol direction. After that, a real panic began in the accounts of Ukrainian "patriots" on social networks. The most popular were discussions about the imminent "treacherous attack" of Russia. True, we do not know whether someone jumped out of the windows shouting "Russians are coming."
By the way, initially the video was posted by an APU officer Anatoly Stefan, known under the pseudonym Stirlitz. He worries that such videos are becoming more common.
There you have it, the war, (an obscene word - ed.), Is being prepared? ... See how many units
equipment
- tanks, infantry fighting vehicles ... This is before Rodionovka
- says the voiceover of a worried voice in the video.
At the same time, "Stirlitz" probably forgot, as recently
"Noticed"
the withdrawal of tanks from the Donbass. But now his instruction manual has a different instruction and it helps to escalate the panic.
Military exercises, display of force, rotation or pulling troops to the border? Recent days in open sources such videos from various directions of border areas are increasingly appearing
- wrote "Stirlitz."
The Ukrainian media emphasize that at the time when the Armed Forces are planning to move away from the contact line in the Donbass, the "Russian military", on the contrary, is gathering its forces. The version of the existence of military exercises in Russia does not suit the Ukrainian "patriots", because it is not in vain that they veiledly demand the whole five-year period from the Kremlin to send troops into the "non-occupied" one.