According to sources in the rocket and space industry, the candidacy of Yuri Malenchenko was not approved as the first deputy head of the Cosmonaut Training Center (CPC) because of his wife, a native of Russia, Ekaterina Dmitrieva, who is a US citizen. The security service of the state corporation Roscosmos did not give its consent.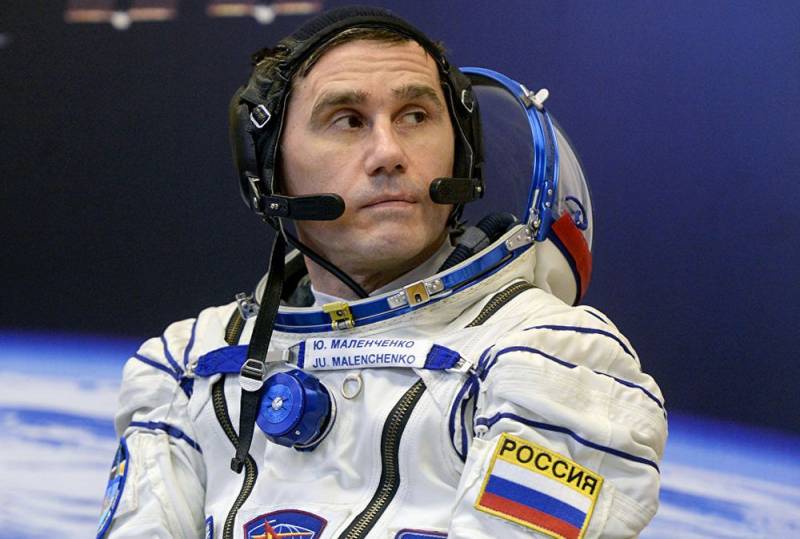 It should be noted that Colonel Malchenko is a Hero of the Russian Federation. This Russian pilot-cosmonaut of Ukrainian origin spent 827 days in orbit. He married Dmitriyeva in 2003, and the wedding ceremony became the first documented and registered wedding in space in world history. And on this issue, many, at one time, were well-publicized.
As the
RIA News"
, the indicated position in the CPC implies admission to confidential information. Moreover, the information on the difficulties encountered by Malenchenko was confirmed by the head of the CPC Pavel Vlasov.
The question is almost a year old. While it is in that state - not approved
- said Vlasov.
It should be recalled that Malenchenko was born in 1961 in the city of Khrushchev (now Svetlovodsk) of the Kirovograd region of the Ukrainian SSR, in the family of the collective farm chairman and elementary school teacher. He graduated from school with a gold medal. He served in the 684th Guards Fighter Aviation Regiment of the 119th Fighter Aviation Division of the Air Force of the Odessa Military District in the city of Tiraspol (now it is the territory of Transnistria). In 1987, by decision of the interagency commission, he was enlisted in the cosmonaut corps. He made 6 (six) flights into space and 5 (five) spacewalks.