In the framework of the conference "Orbit of Youth", which was held at BSTU. Ustinova (St. Petersburg), Director of Roskosmos D. Rogozin spoke about plans to create a new methane-fired rocket. According to the functionary, the promising carrier will be almost a third cheaper than Soyuz-2.1b and will cost about 900 million rubles.
It also follows from the presentation that the new rocket will become more profitable for Soyuz in terms of launches. At the moment, the cost of launching Soyuz-2.1b is $ 45 million. At the same time, sending into space a fellow for LNG will cost 40,5 million.
If we compare the carrying capacity of missiles, then here again the leaders are a promising carrier. The apparatus with a methane engine will be able to put 9 tons into low Earth orbit, and 2,2 tons into geo-transitional orbit. At Soyuz-2.1b, these indicators are 8,2 and 2 tons, respectively.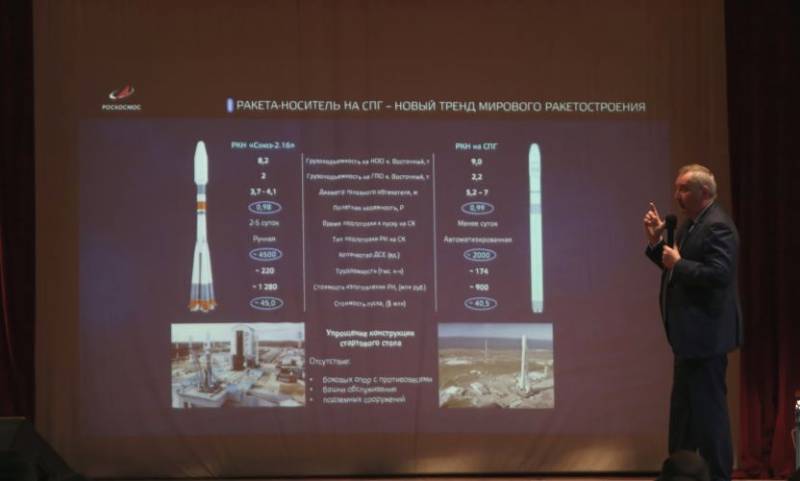 Recall that the plans for the development of a new rocket with a methane engine, which will be able to remove cargo up to 9 tons and will replace the "Union", Rogozin said back in May this year. At the same time, he repeatedly emphasized that the use of methane as a fuel will make it possible to create reusable devices.
Earlier, in July 2018, NPO Energomash announced the development of a methane engine. The unit was named RD-169 and can be tested after 3-4 years.