We all know the concept, in crude colloquial terms, called the "lice test." I think its meaning does not need to be clarified ... Alas, the authorities of Belarus once again failed, and, we can say, with a bang. Generally quite innocent
publication
The Russian Kommersant, which was immediately picked up and "intertwined" by many mass media, provoked such a sharp reaction in Minsk that it could be described as completely inadequate to the situation.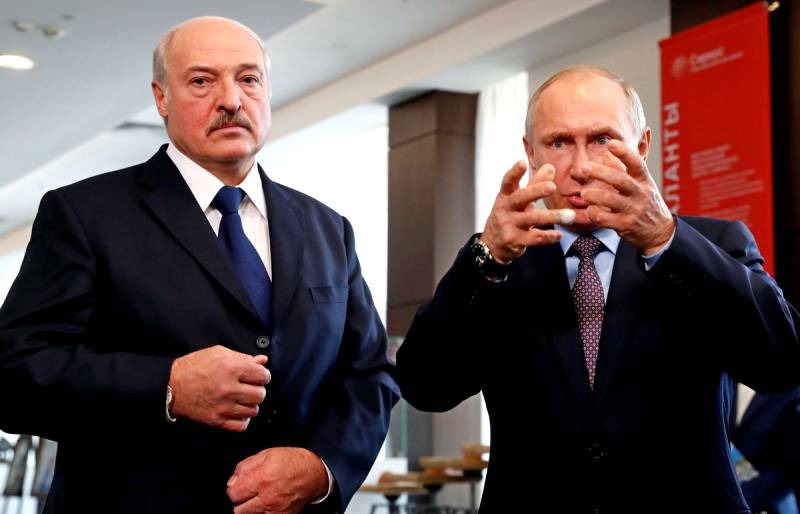 Statements made on this subject at the highest level suggest that the country's leadership intends to continue the course not to intensify integration processes, but rather to imitate those. And the point here, unfortunately, is not only in words.
A lot of noise ... because of what?
The article mentioned above, because of which passions flared up, in essence, is not so sensational. Yes, the contours of the upcoming process leaked to the press for the first time.
economic
integration between Russia and Belarus, seemingly already generally approved by their prime ministers, Dmitry Medvedev and Sergei Rumas. In this case, of course, no conclusive evidence was written for the material was not attached. Exclusively - references to a certain "informed source in the Russian government." It must be said that all the main directions of the rapprochement between the two states in the newspaper are, indeed, purely on the economic plane. About spheres
policy
(any changes in the structure of the executive branch, the creation of common bodies of state administration and the like), or, say, national security, if you believe the journalists, this is out of the question. And in the economic field, no revolutionary steps are planned, such as, for example, the introduction of a common currency or the union of central banks. A single foreign trade regime, unification of the Civil and Tax Codes, and property accounting systems, joint state regulation of a number of energy sectors and markets - what is so unusual or frightening about this? The terms "confederation" or "federation" as used by the author are in this case, rather a turn of speech than the specifically applied legal terms.
Obviously, precisely because of this, the Kremlin reacted to the publication more than calmly. Without going into unnecessary details, the press secretary of the leader of our country Dmitry Peskov explained that no official information, which is 100% confirmed and verified, on this issue has not yet been made public. Consequently, any statements regarding Russian-Belarusian integration are nothing more than attempts to build forecasts made with a greater or lesser degree of reliability. At the same time, Peskov confirmed that the corresponding plan does not just exist, but has already been agreed by both parties and by the end of the year it will have to be approved by the presidents. In a completely different vein, a statement was made by his Belarusian colleague, the press secretary of the head of state there, Natalia Eismont, who from the very beginning took a purely negative, if not aggressive tone in her speech. She immediately accused the journalists who dared to hint at some "confederations" there of using "empty stamps", and in the future she spoke in the corporate style of Lenin's "to unite, we must decisively separate ourselves". Most of her statements carried a particle of "not": "not created", "countries are not ready" and so on. But on the "holiness of independence and sovereignty" she spoke so fiercely, as if someone was going to deprive them personally of her right in the process of commenting ...
How much can you haggle?
It is clear that such detailed and extremely strongly painted emotional statements person, who is the official "voice" of Alexander Lukashenko, in no case would not do something without the consent of the patron, but otherwise, with a direct submission. This is, without a doubt, a "message." But who is it addressed to? The Kremlin? Or, those new "partners", to whom Minsk, such an impression, has been leaning more and more lately? The word is right, if Moscow would have reacted so nervously not only to publications in various Belarusian mass media, but to personal statements of Alexander Grigoryevich himself, then I don't know how the case would end - as if not a complete breakdown of relations. Take at least one of his last "most striking" attacks on Russia - the threat of "taking away" sections of the Druzhba oil pipeline passing through the territory of Belarus. These are not some kind of fantasies about a "confederation", but more than a specific threat. Yes, and a very serious level. It is clear that Minsk by any means seeks to avoid the end of the "emirates in Belarusian", a position that is (let's call a spade a spade) a parasite on the colossal benefits that the country has in transporting and refining Russian oil. The so-called "tax maneuver" will put an end to it completely and irrevocably.
However, it is possible to avoid, of course, not the most pleasant consequences for the Belarusian economy of this decision of Moscow. There is only one way - integration of the economies of the two countries as closely as possible, which, in fact, is proposed by Russia. However, it is very likely that Minsk is choosing a different path, trying to defend its own by no means small "rights" in the form of economic preferences, stubbornly avoiding even the slightest duties and obligations. Funds here go far from specious. All of them come down, in general, to one thing: attempts to blackmail our country with a sharp change in the foreign policy vector of Belarus, its rapprochement with the West and countries far from friendly to us. One of the most striking examples is the flirting of Minsk with Washington, which have recently taken on not only a provocative, but directly grotesque character. Take, for example, Lukashenko's speech at the opening ceremony of the first athletics match "Europe - USA", which was held in Minsk on September 9. All right, the president would only say: "our overseas friends" to the Americans. But statements that he would easily "agree with Trump," who "will certainly win the election" about holding the same match in 2021 and, moreover, his personal presence in Minsk at this event ... In my opinion, this is a bust even for Alexander Grigorievich.
"Multiple vector" or illegibility in communications?
No less perplexing is the proposal made by the Belarusian leader to Russia and Ukraine ... to unite for the next summer Olympics! This already sounds like a mockery, moreover, for both countries. However, the one who accepts all these statements only for the manifestation of eccentricity Lukashenko, most likely, will be mistaken. To our great regret, Minsk is clearly going to not only continue, but also to expand in every way the most worthy practice of maintaining close contacts with states unfriendly to Russia, while declaring allied relations with it. It originates from the cooperation (including military-technical) of Belarus with the Kiev "Maidan" regime, which received rapid development after 2014. The Belarusian side had very considerable benefits from him, both economic and political, and, apparently, she does not intend to stop there. So, during a recent meeting with his Georgian counterpart Mamuka Bakhtadze, Belarusian Prime Minister Sergei Rumas not only called Georgia a "fraternal state", but also announced plans for a sharp expansion of trade and economic cooperation with her. Obviously, the plans of Belarus include assisting Tbilisi Russophobes in circumventing Russian sanctions ...
Perhaps, in a similar way, the policy of Minsk regarding the Baltic states may soon begin to develop. It is not without reason that Lithuanian President Gitanas Nauseda has already announced his intention to "improve relations with Belarus" and is even considering inviting Alexander Grigoryevich to Vilnius. Preferably - in company with the presidents of Poland and Ukraine. Lukashenko as much as he can declare his desire to build with the same Europe "good neighborly relations that do not imply a choice between the West and the East," thereby "serving as a conjugation of European and Eurasian integration processes." With his political experience, he perfectly understands that nothing of the kind can exist in principle. In any case, at this stage, and in the current geopolitical situation. He is unlikely to be aware of the fact that as some kind of "connecting link" between continents and civilizations, Belarus can hardly be interesting to anyone. But as another "anti-Russia" - completely. Against this background, it seems extremely alarming, for example, that the official Minsk in no way suppresses the activities of those forces that, more and more recently raising their heads in the country, are conducting open activities to break off Belarusian-Russian relations as such. Campaigning in this direction is very active. For example, the petition for denunciation of the Union Treaty between Minsk and Moscow, registered at the request of one of the "oppositionists" officially authorized by the government and deputy of the lower house of the country's parliament, Anna Kanopatskaya, calmly continues to gain votes (more than 7), but Lukashenko doesn't . Does it support?
Especially unpleasant, in my opinion, the moment in the statement so zealously rushed to refute rumors about the possibility of maximum rapprochement between Belarus and Russia Natalia Eismont is her comparison of the sovereignty and independence of the countries with the "red flags". Anyone who is familiar with the background of this term knows that they are surrounded by wolves during a big hunt in order to drive them out under the bullets of the shooters standing on the "numbers". A rather strange use of such an image for a given context, do not you find? I wonder who, according to this characteristic reservation, the spokeswoman sees as a gray predator, and to whom does he play the role of a hunter aiming at him? More than interesting ...