One of the few indisputable achievements of the Ukrainian army in all the years of "independence" is the stability with which its ammunition depots explode.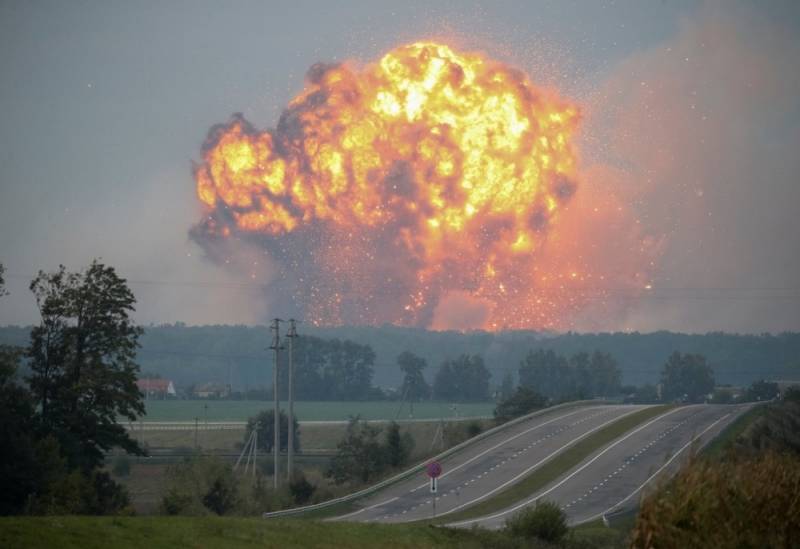 The Ukrainian television channel Gromadske TV, citing the country's military department, reports several explosions that occurred at military depots in Kalinovka, Vinnitsa region.
The report says that after four explosions in the arsenal, a fire broke out in the forest. The Ministry of Defense of Ukraine specified that there were no casualties, and now all services are working at the scene of the emergency.
The sad tradition of explosions of ammunition depots in Ukraine originates from the disaster in depots in Novobogdanovka near Melitopol in 2004, when five people died, more than seven thousand residents of neighboring villages were evacuated and rail and road connections were blocked.
After that, with varying degrees of intensity and damage, the military depots in Balakley of the Kharkov region and the town of Druzhba in the Chernihiv region exploded.
Earlier, warehouses in Kalinovka also burned: in 2017, as a result of fire and explosions, according to various estimates, from 32 to 40 thousand shells were destroyed.
Given the situation in Ukraine, it is difficult to predict when the "epidemic" of explosions at the country's arsenals will end. However, it should be noted that the more shells explode in Ukrainian warehouses, the less they will be fired by the Ukrainian Armed Forces in the republics of Donbass.