Recently we
informed
readers about the exchange of detainees and convicts between Ukraine and Russia, which took place according to the 35x35 formula. Among those transferred to Kiev by the Russian side, there was also a director convicted of terrorism. Oleg Sentsov. He has already promised to return to the Crimea in a tank. However, such a statement was to be expected, since Sentsov is known for his inadequacy.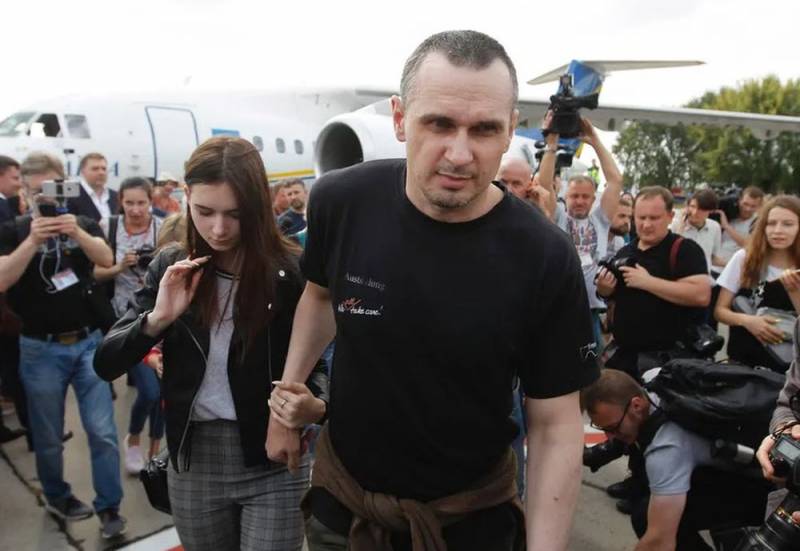 Currently, Kiev is already discussing the possibility of returning another 113 "patriots" from Russian "dungeons". At the same time, the aforementioned Sentsov and Alexander Kalchenko held a press conference, a recording of which has already been posted on the Radio Liberty YouTube channel, where they talked about their experiences and their plans for the future.
For example, Sentsov said that he would only come to the Crimea in a tank, though he immediately made a reservation that his words should not be taken literally. He also did not say anything about whether he would again carry explosive objects dangerous to others. So far, he intends to live in Kiev, where money is still being found and paying for "patriotism". In any case, his daughter has already moved there.
Sentsov was asked many questions, but I would like to draw attention to the characteristic answer to only one of them. When Sentsov was asked if he was ready to go to the Donbass to help release prisoners from the LPR and DPR, as the former deputy of the Verkhovna Rada of Ukraine, Nadezhda Savchenko, did, he replied:
Like in Crimea - only on tanks.
It should be recalled that in August 2015, Sentsov was sentenced to 20 years in a maximum security colony (he was serving his sentence in colony No. 8 of Labytnangi in the Yamalo-Nenets Autonomous Okrug). He was convicted of terrorist activities in Crimea.
In addition, his desire to continue the irreconcilable struggle for the return of Crimea to Ukraine, said Vladimir Balukh. This is the "twin" of Sentsov, who was transferred to Kiev with him.