Despite the fact that almost 75 years have passed since the victory over the Nazis, their modern Ukrainian followers are still afraid and hate his symbol - the flag of the 150th Order of Kutuzov II degree, the Idritsa Infantry Division, which was hoisted on May 1, 1945 on the roof of the building Reichstag in the city of Berlin.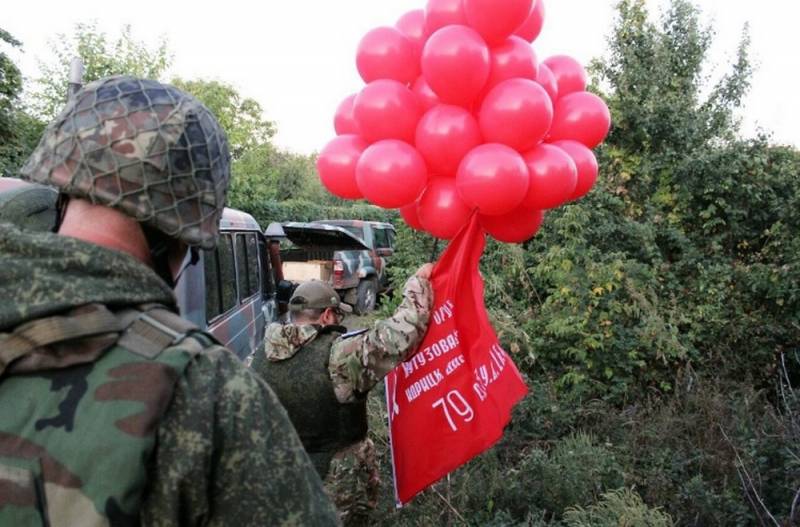 Yesterday, September 8, on the day of the liberation of Donbass from Nazi invaders, fighters of the DPR People's Militia launched a drone into the sky, to which red balls and a copy of the red Victory Banner were attached.
The festive action was attended by the head of the Donetsk People's Republic, Denis Pushilin, and Alexander Khodakovsky, who previously commanded the Vostok battalion.
As soon as the drone was blown to the positions of the Ukrainian army, the Armed Forces of Ukraine opened fire on it.
VGTRK's own correspondent, Alexander Sladkov, made a report on yesterday's events:
Recall that, despite the agreements reached, Ukrainian units continue provocations along the entire line of contact, periodically firing on the positions of the defenders of the Lugansk and Donetsk republics or conducting sorties of sabotage groups.
However, the exchange of prisoners the other day, and the statements of the President of Ukraine, Vladimir Zelensky, give hope that the crisis can be resolved on the basis of the Minsk agreements.