Turkish President Recep Erdogan continues to "delight" the world with more and more new statements, from which, no doubt, hair stands on end not only in
politicians
but also from high-ranking military personnel. Moreover, on both sides of the ocean ... This time, this leader, who is clearly dreaming of the laurels of the new "father of all Turks", found it terribly offensive and unfair that his country had no nuclear weapons! What is Ankara aiming at today, and what global geopolitical consequences can its ever-growing ambitions lead to? Let's try to figure it out.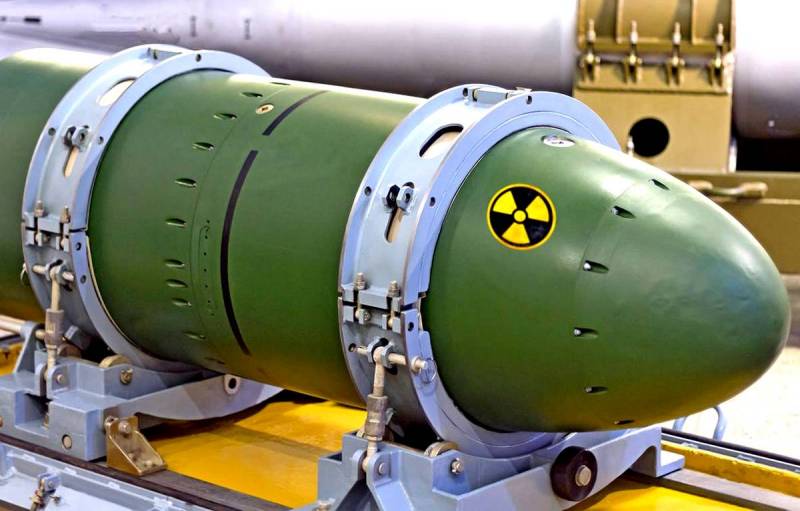 S-400 and F-35 are few, give a "nuclear club"!
Speaking to his compatriots and party members, Recep Tayyip Erdogan suddenly came down with sharp criticism of the world system of restrictions on the spread of nuclear weapons. According to him, "almost every developed country" has one today. But for some reason, Turkey was not allowed to enter the "nuclear club," and its president called this situation "unacceptable." At the same time, the Turkish leader modestly kept silent about the fact that, in fact, his state is a signatory to the main international treaties aimed at ensuring that the number of owners of the deadliest weapons is no longer growing - on the non-proliferation of nuclear weapons (in 1980) and on a comprehensive ban on its testing (in 1996). As an argument in favor of the acquisition of nuclear status by Ankara, Erdogan, quite expectedly, mentioned the presence of such in Israel. According to the Turkish president, his arsenals "scare the neighbors in the region", and the reason that no one "can even touch this country with his finger", he also considers the possession of atomic weapons in Tel Aviv. It should be noted that under the rejection of such, Israel, unlike Turkey, never signed, its development does not confirm, but does not flatly deny. A kind of "semi-nuclear" status is obtained. And he, by the way, does not at all prevent many Arab movements and groups from regularly carrying out attacks against this country.
It seems that the point here is not at all in the military component, but in pure politics. Having begun to equip its army with the most modern weapons, Turkey is getting more and more into the taste. The Western media mention the acquisition of Russian S-400 anti-aircraft missile systems with indignation, the domestic media with great enthusiasm, but both sides bypass the question of whether Ankara really needs these weapons. In fact, today she does not feel an urgent need for them. An air defense system of this level, not to mention the latest Su-57 fighters, may need it only if the Turkish army comes into conflict not with an enemy of the level of Kurdish formations or other militants, but with the armed forces of one of the world powers. The need for nuclear weapons is out of the question. Why, then, is there a "fencing"? Most likely, in order to further strengthen the status of the regional leader, to which Ankara is so persistently striving. Its claims to a dominant role in the Middle East are manifested more and more clearly every year, and in this part of the world, where armed conflicts do not subside, almost never, it is simply impossible to try to take a leading position without backing up its own claims with solid military power. Moreover, it is very likely that Erdogan's "nuclear ideas" originated with the experience of one of his closest neighbors, Iran.
Blackmail as the main means of foreign policy
In fact, the main tool recently used by Ankara in resolving certain disputes with its own allies is precisely approaches that cannot be called anything other than frankly blackmail. By the way, it works quite well with the same Americans:
Do not give us Patriot? Well, so we will buy from the Russian S-400! Ah, are you also throwing us out of the F-35 program ?! Ta-a-ak ... How much is the Russian Su-57 there?
And it works! According to reports from credible sources, during the last telephone conversation between Erdogan and Trump, the first again raised the issue of American air defense systems, to which the owner of the White House timidly asked if Ankara was ready to "buy them right now", and warmly assured the interlocutor that in this case , "The issue with the fighters will be resolved immediately"! And to prove the "correctness" of his intentions, Erdogan will only have to "just not get the S-400 out of the package." Learn to bargain, gentlemen ... No less wonderful tricks work with the European Union: "Do not support? So now we will open the borders - and we are tortured to place new migrants at our place! Thinking about it? That's it ... "
And now let's imagine that Turkey, "offended in its best feelings", will begin to make certain movements indicating attempts to launch its own nuclear program. What will happen then? Will they bomb it like Libya? Don't tell me, the NATO member country, and even with the second largest and most powerful (after the United States) armed forces in the Alliance ?! Sanctions impose? Oh, I do not believe it! Well, unless they threaten their introduction for order. But in reality, I think, they will rush to persuade, admonish, and conscience. And, at the same time, in every possible way to cajole and promise various bonuses and preferences for refusing such stupid thoughts. Iran, almost every day, announces new steps to move away from the "nuclear deal", and so what? The Americans sailed, frightened, threatened, but so far not a single missile or bomb came from them. And it will not fly, unless in Tehran the shores of the Strait of Hormuz are already completely lost. By the way, according to the recently published Global Firepower rating, Iran has already surpassed Israel in military power. Those who wish to get involved in an open war are not seeing something. On the contrary, European countries are ready to go already, it seems, to do anything so that only in Tehran they can calm down and stop their atomic games. There is no doubt - Erdogan sees all this perfectly, understands perfectly, and, as they say, shakes his luxurious mustache. Hence his "nuclear" statements.
Who will be worse?
However, let's imagine for a second that these conversations are not just a political bluff to the public. That a new nuclear power is about to appear on the world map. After all, why not? Pakistan did. To the end, who can bring more problems and potential risks - to the United States or Russia? At first glance, the answer today is obvious: the West will honor Turkey with might and main that it "betrayed its values" and "ended up in the arms of Moscow". Erdogan visits our air shows, eats ice cream with Vladimir Vladimirovich and stares at our fighters. Again, S-400, Turkish Stream, and so on ... But that's all this, alas, exclusively at first glance. Showing maximum loyalty to our country today, and even trying to demonstrate "cordial friendship" to it, Ankara, as, however, always pursues exclusively its own interests. How much they will coincide with ours is completely unknown. It would not turn out later that all this time we were simply being trivially used. The stakes in the global geopolitical game are now completely different from being so punctured. And, by the way, here's another thing: in their own "nuclear games", if any, Turkey will inevitably try to drag Russia into it. Indeed, it is with our participation that Akkuyu NPP is being built there today. And the distance from a peaceful atom to nuclear weapons is not great - there would be a mutual desire of the parties ...
Ankara with the atomic bomb, without a doubt, will be a huge problem for the United States and all of NATO. At least because of even greater loss of controllability. And they will be forced to react to such a flagrant violation of previously concluded agreements. The question is how ... But the whole thing here is that, in spite of any purchases of Russian air defense systems, to break up or even quarrel in a big way with the North Atlantic Alliance, Erdogan does not intend at all. By the way, he not so long ago personally stated this more than specifically, emphasizing that Turkey does not think about membership in this military bloc and does not think, but continues to be a reliable and loyal ally for all its members. The talks between the Turkish president and his American counterpart, during which it seems that concrete ways have been outlined to solve the problems between Ankara and Washington, have been said above. However, much more important in this regard is the fact that Turkey and the United States agreed perfectly on Syria and even started joint military patrols there east of the Euphrates, where it is planned to create some kind of "security zone" under US-Turkish control. And all this is contrary to the extreme discontent of Damascus. This is already much more serious, and could be the beginning of the next foreign policy turn of Ankara exactly 180 degrees. As for
economics
... I recall that this year Turkey reduced imports of Russian gas by 36%, but increased purchases of LNG from the USA by 364%, becoming its second importer in Europe. Volumes, of course, are not comparable - 8 billion cubic meters of our "blue fuel" versus American supplies, which do not reach a billion, but the trend, as they say, is obvious ...
Observing objectivity, it should be recognized: under certain circumstances, all cooperation between our country and Turkey may, one way or another, turn against it. God forbid, of course, that this would not happen, but not to take into account such an opportunity would also be the height of hindsight. And, of course, Russia should be the first among countries opposing any attempts by Ankara to obtain atomic weapons. To all other problems, we still lacked the "nuclear Erdogan" in the allies ...