Le Monde, the French daily newspaper of left-liberal views, reports that the upcoming meeting of the Russian and French Foreign Ministers and the Ministry of Defense in Moscow will be the first step towards the implementation of statements made earlier by French President Emmanuel Macron regarding improving relations with Russia. Paris is determined to bring its project (a large Europe from Lisbon to Vladivostok) to its logical conclusion, despite internal disagreements, objections and doubts among European partners.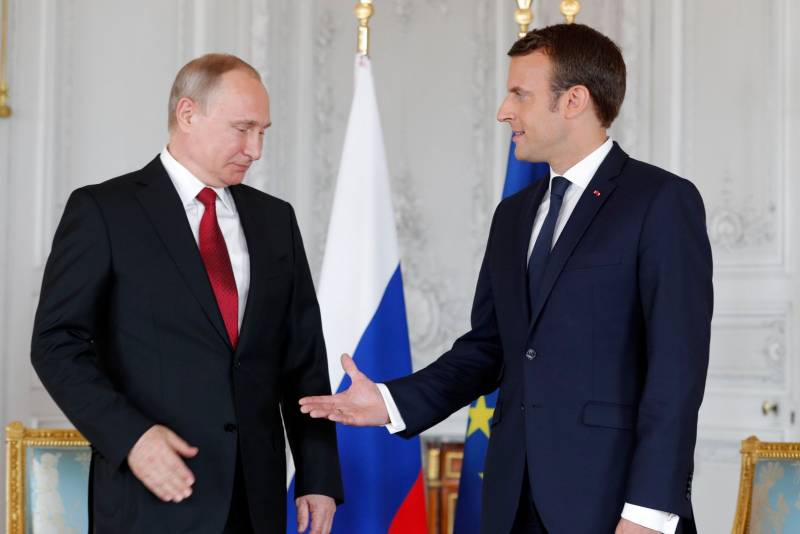 It should be noted that this meeting should be held on September 9, 2019 in the capital of Russia. It is emphasized that such consultative measures on cooperation and security in the 2 + 2 format have been held since the 1990s to strengthen ties between the two countries. But in the last five years they were not carried out for reasons related to Ukraine. Therefore, this format was "frozen." However, according to the publication, the president of Russia, Vladimir Putin, is ready to take certain steps towards Kiev (the exchange of detainees is given as an example), so nothing prevents us from continuing the 2 + 2 dialogue.
In addition, the meeting of the Norman Four countries (France, Germany, Ukraine and Russia), on the topic of the intra-Ukrainian conflict, should also be held in September 2019 in Paris.
At the same time, on the Crimean question "a cross was put". That's what they think
Head of Russian Programs, French Institute of International Relations, Tatyana Jean:
It will be the same with Crimea as with the Baltic countries, whose accession to the USSR was never recognized, but this, however, did not harm relations with Moscow.
At the same time, Le Monde recalled that the head of the French Foreign Ministry, Jean-Yves Le Drian, had repeatedly met with his Russian counterpart, however, the relations of the defense ministers were interrupted during the five-year period.
In the end, distrust is of no use to anyone, even if the reasons that gave rise to it - Ukraine, Syria, chemical killings - have not disappeared, and therefore the dialogue should be demanding.
- said on September 3, 2019 Le Drian.
According to the publication, Macron is striving for a "real reset" of relations with Russia, especially since the meeting with Putin at Fort Bregancon on August 19, 2019. At the same time, Macron does not hide that he feels a strong opposition, and it does not come from Moscow. Macron is convinced that he will succeed, although his predecessors failed. The thing is that Macron relied on the European essence of Russia from the very beginning of his presidential term.