The French media report that the head of the Pentagon (US Department of Defense) Marc Esper, during a press conference in Paris, said that Moscow, in order to work together with Washington, needs to change its behavior. Esper believes that Russia should focus not on differences, but on similarities in the positions of the parties. However, he did not specify whether the United States would meet Russia.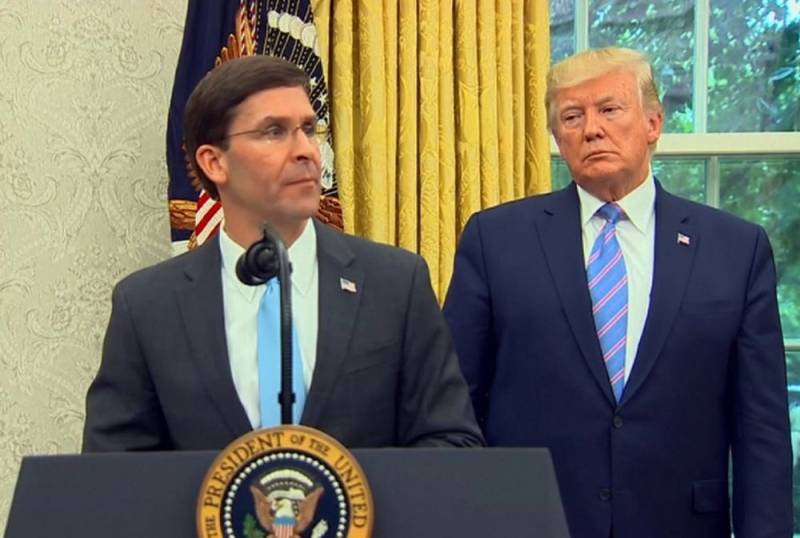 It should be noted that the main purpose of the visit of a high-ranking American to France was to involve Paris in the anti-Iranian coalition, which in Washington is called the "international mission to ensure security in the Strait of Hormuz."
It would be great if Russia could behave as a more normal country that shares the Western values ​​shared by the United States, France and our other NATO allies.
- said the head of the Pentagon.
Russia needs to change its behavior and behave in accordance with the rules and norms that we have established. This is the best way to move forward.
- said Esper, completely ignoring the norms that are adopted in Russia.
Russia continues to contribute to instability, as it violates the territorial integrity of its neighbors.
- Unprovenly accused Russia of Esper.
Our goal is to try to put them (Russia - ed.) On the best path where we can work together and concentrate not on disagreements, but on what we agree on and cooperate for our common economic prosperity, promoting our values ​​and interests.
- summed up a senior American official.
After all of the above, how can anyone have doubts about the real attitude of the USA towards Russia? At the same time, the "peacefulness" of the USA is clearly visible in the withdrawal from the Treaty on the Limitation of Missile Defense Systems in 2002, and in 2019 from the Treaty on the Elimination of Intermediate-Range and Shorter-Range Missiles (INF Treaty), and the soon termination (in February 2021) of the Treaty on Measures to further reduce and limit strategic offensive weapons (START-3), which the Americans categorically do not want to extend.
It should be recalled that earlier the French president, Emmanuel Macron, said that pushing Russia away from Europe would be a big strategic mistake, and a new European project (a large Europe from Lisbon to Vladivostok) would not appear without a serious review of relations with Moscow. Naturally, such a statement did not like Washington.