On September 6, 2019, a photo of three Russian servicemen who died in Syria on September 3, 2019 appeared on the Web. Sources that disseminate the information claim that the photo is true.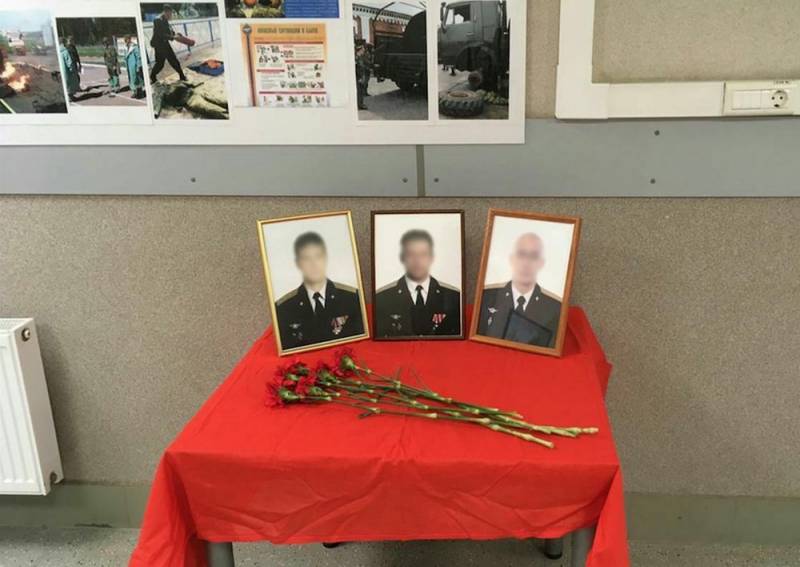 It should be noted that the agency published the first photo (simultaneously)
RBC
and the Telegram channel "First of all. Almost". According to their information, on the evening of September 3, 2019, a detachment of eight Russian military carried out reconnaissance, but soon divided into two groups. One of the groups was blown up by a mine (like OZM-72, a fragmentation barrage mine), another group went to the aid of their comrades, but was blown up by another mine. As a result, three officers were killed, and two more soldiers were injured (their condition is unknown).
It is specified that the major, Roman Mitsyk, captain, Dmitry Syskov and senior lieutenant, Kirill Nikonov, died. All of them served in the Special Operations Forces (MTR) of Russia. Moreover, the death of 27-year-old Nikonov, allegedly already confirmed by his relatives. He should be buried on September 7, 2019 on the Alley of Military Glory of Volgodonsk.
It should be recalled that on September 5, 2019, the Russian Ministry of Defense denied information about the death of the Russian military in Syria, near the village of Dzhurin (Idlib province), where their observation post was located. The military department said that there was no observation post in that area and asked the media not to publish unconfirmed information. By the way, on this day, the pro-Turkish "National Liberation Front" announced a successful attack on Russian special forces in the area.