On September 6, 2019, in the sky above the Lipetsk region, during a training flight, two Su-34 combat fighter-bomber collided. According to preliminary data, the cause of the collision (contact in the air) is the loss of visual contact.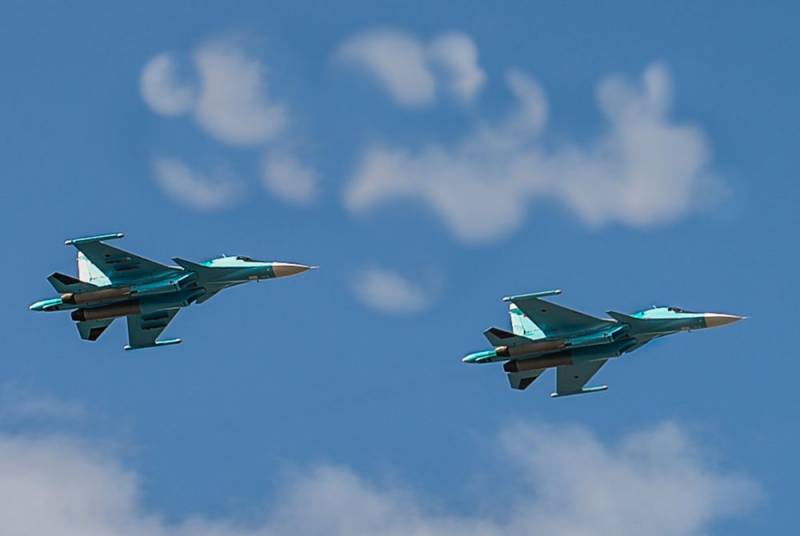 As a result, debris fell into the engine of one of the Su-34s, and the cockpit and fuselage were damaged. The wingtip with the equipment of the electronic warfare complex (EW) was ripped off from another. That is, both aircraft received significant damage. At the same time, the crews of both Su-34s managed to land their planes at the airport, there were no casualties as a result of the incident.
It should be noted that both Su-34s belong to the State Center for the Training of Aviation Personnel and Military Tests of the Russian Ministry of Defense (Lipetsk). Currently, the degree of guilt (errors) of the crew members (commander and navigator in each aircraft) is being ascertained. The incident is assessed as a serious aviation incident, which will be dealt with by a special commission.
It must be recalled that on September 5, 2019, in the Saratov region, in the vicinity of the Sokolovy village,
committed
hard landing military helicopter Mi-8. As a result, it burned down, but three crew members managed to escape. And even earlier, on September 3, 2019, in the Stavropol Territory, he suffered
crash
attack aircraft Su-25UB. As a result, two members of his crew died before they could eject.