On September 5, 2019, at about 16:00 Moscow time, in the Saratov region, near the village of Sokolovy, the Mi-8 helicopter of the Russian Ministry of Defense made a hard landing. As a result of touching the ground, the helicopter caught fire and burned out in a short time. A crew of three managed to leave the burning helicopter in time and escape (escaped with abrasions and bruises).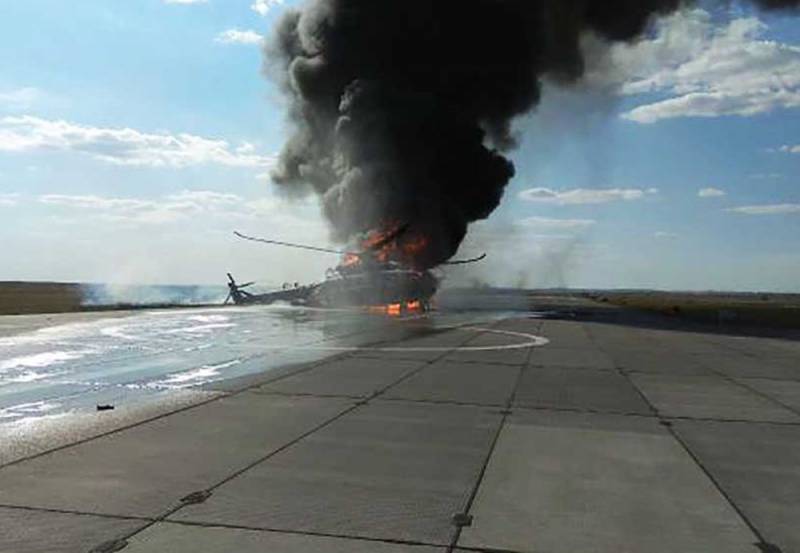 The military department considers the destruction of one of the landing gear racks to be the probable cause, because a military helicopter capsized and caught fire when taking off on the runway of the Sokol airfield when the blades hooked the runway. At present, a special commission of the Aerospace Forces of Russia is working at the airport, which should establish the exact causes and circumstances of the emergency.
In addition, a video from the scene has already appeared on the web. They show a burning helicopter and a column of smoke rising from it. From the Ministry of Emergency Situations specified that 10 units took part in the extinguishing of the helicopter
equipment
and 32 people (6 pieces of equipment and 19 people from the Ministry of Emergencies).
It should be recalled that the Mi-8 (product number "80", according to the NATO classification "Hip" - "Hip") is a Soviet / Russian multi-purpose helicopter, which has been produced in various modifications since the early 60s of the twentieth century.
Previously we
Reported
as on September 3, 2019, the Su-25UB attack aircraft crashed in the Stavropol Territory. As a result, two members of his crew died before they could eject.