Return to the moon and flight to Mars - these are the main goals facing humanity in space exploration. But they can be achieved in various ways. American billionaire Ilon Musk proposes to build a "very large rocket", which will deliver the crew to the Red Planet. But in Russia, work is currently underway on a nuclear power propulsion system, which in the future will allow the creation of spacecraft of relatively modest sizes and establish a much greater speed when traveling between two neighboring planets.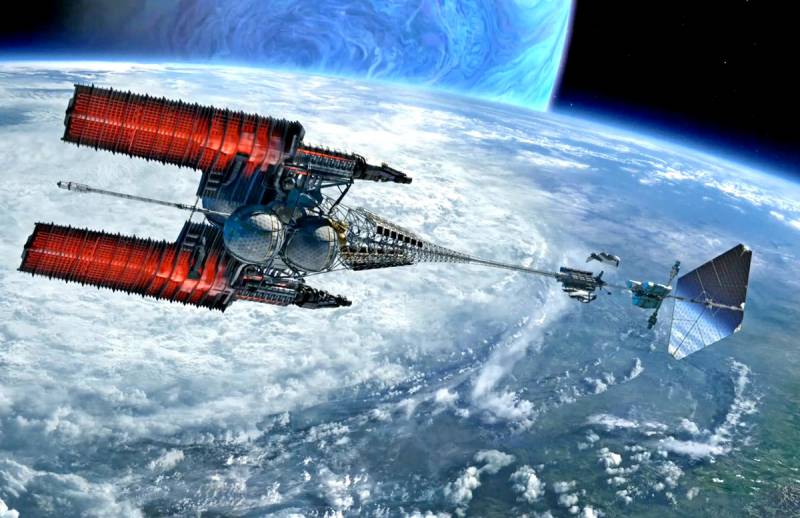 Mask project, figuratively speaking, "not too
technological
". It involves the creation of a very large ship, the bulk of the mass of which will be fuel reserves - fuel and oxidizer. The interplanetary journey on chemical fuel is expected to be very long, approximately it will take 230 days. All this time, astronauts will be at increased risk of exposure to solar radiation.
But there is an alternative way to conquer the Red Planet and deep space. To do this, you need to create a ship that runs on nuclear fuel, capable of reaching the destination in less time. In particular, with a nuclear power of 50 MW, an apparatus weighing 100 tons will fly to Mars in just 40 Earth days. Sergey Kiriyenko, the head of Rosatom, commented on this as follows:
Today's spacecraft allow you to fly to Mars in a year and a half without the ability to return to Earth and without the possibility of maneuvering - they accelerate once and then go along the trajectory. The installation with a nuclear engine will allow you to fly to Mars in a month and a half and come back, since it retains the possibility of maneuvering.
As they say, feel the difference. But the reason everyone no longer flies on nuclear engines is their extreme complexity. Designers need to ensure the reliability and durability of power plants, to solve the problem of excess heat discharge.
Today, excess heat is removed through large radiators through which coolant circulates. If a meteorite hits it halfway to Mars, then wait for trouble. Russian scientists must be given credit: they were able to come up with a unique drip cooling system. At the same time, there is no need for bulky and vulnerable radiator pipes, and the design itself is significantly facilitated. In addition, our experts have developed a technology for creating particularly refractory materials that can work at extremely high temperatures.
In fact, this is a breakthrough in the complex task of creating a nuclear power plant. At the MAKS-2019 air show held in the suburbs of Moscow, a prototype of a nuclear engine was demonstrated. Its capacity is 1 MW. Apparent modesty does not mean anything, since it can be further increased by 10 times and 50.
All this is a big step, allowing Russia to get ahead of all its competitors. But this does not mean that we are ready to fly to Mars. First, a nuclear engine must first be assembled and tested. Work on the creation of the corresponding complex at the Vostochny Cosmodrome will not begin until 2030. It is also necessary to effectively solve the problem of protecting the crew from solar radiation. And, of course, such a project will require very significant funding.
But progress is underway, and it pleases that our science also does not stand still, but works ahead of the curve.