Hypercar Chiron from the concern Bugatti became the fastest car in the world, accelerating to 490,5 km / h (304,77 mph). Tests were conducted on a track in the German commune Era-Lessin (Lower Saxony). At the wheel of a near-serial prototype was an experienced racer, Andy Wallace.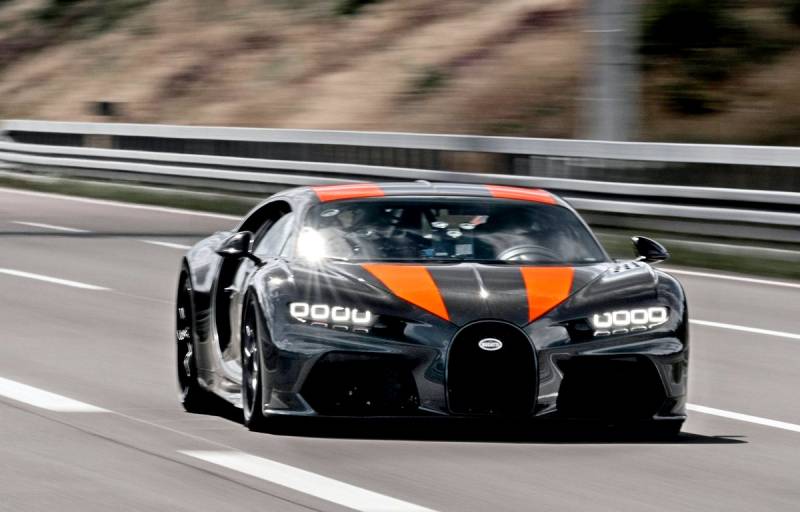 According to Top Gear, the new Bugatti model not only managed to overcome the previously inaccessible 300 mph mark, but also exceeded the performance of its closest competitors: SSC (256,18 mph), Hennessey Venom GT (270,49 mph) ) and Koenigsegg (284,55 mph). The record was officially recorded by TÜV.
Work on the creation of a hypercar began six months ago. Together with engineers from the Bugatti concern, specialists from Michelin and Dallara worked. The main goal of the designers was to create a car that could reach speeds of over 300 mph.
As a result, the Chiron prototype received a number of differences from the original: its body is 25 cm longer and the ride height is much lower. In addition, in order to improve aerodynamic performance, the air brake and rear wing were removed. Instead, the car was equipped with static elements, recessed into the rear of the body.
The prototype was equipped with a W-shaped 16-cylinder engine, the volume of which is 8 liters, and the power reaches an impressive 1578 hp. At the same time, a standard gearbox is installed in the all-wheel drive Chiron. The height of the ride height is adjusted using a laser, and in place of the passenger seat is a computer unit.