In Russia, they decided to "resurrect" the A-40 Albatross seaplane project, upgrading the device during the finalization. This was announced on the eve of the publication.
"News"
referring to a source in the aviation industry and the military department of the Russian Federation.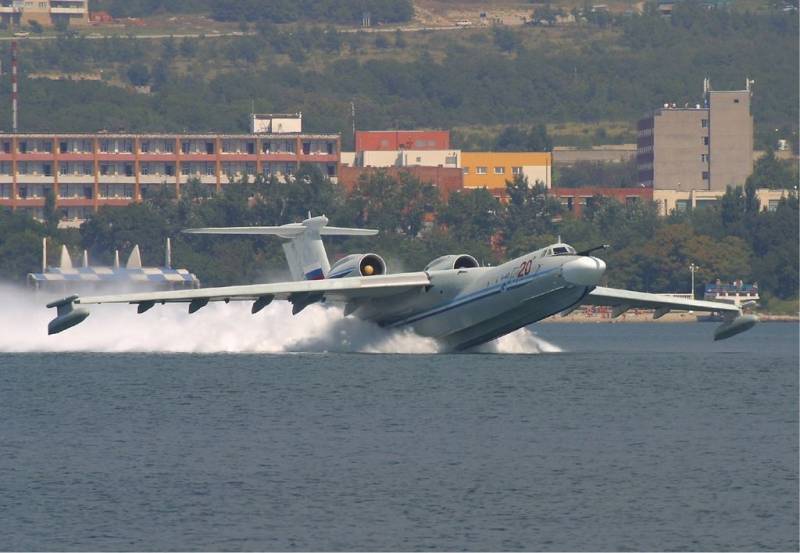 Recall that the aforementioned amphibious aircraft was developed by TANTK them. Beriev back in the late 80s - early 90s of the last century. At that time, the project was called Be-42. The seaplane carried out its first flight on December 8, 1986. However, in 1993, all work on the promising apparatus was discontinued due to lack of funding and lack of interest from the Russian Ministry of Defense.
It is worth noting that they tried to renew this project in 2008, but in 2012 it was again closed. Later, in 2016, the military department announced plans to replace the Be-12 aircraft in service with the A-40 by 2020.
In the event that the Albatross still "sees the light", it will become the largest seaplane in the world. Its predecessor (Be-12) had a length of 45,7 meters with a wingspan of 42,5 meters. The maximum take-off weight of the device was 90 tons. An amphibious aircraft could reach a top speed of 800 km / h and cover a distance of up to 5000 km. To date, the largest representative of this class is the Chinese AG600, whose length is 37 meters and a wingspan of 38,8 meters.
The Ministry of Defense of the Russian Federation said that the modernized A-40 will be equipped with submarine detection systems and the latest avionics. At the moment, the project is under approval. If the latter is approved, the military will place an order for the manufacture and supply of three Albatrosses. The amphibious aircraft is planned to be used as a universal anti-submarine and rescue vehicle.