The change of power in Kiev could not but affect the financing of Ukrainian Nazi organizations, which at the time of Petro Poroshenko were kept by the SBU and the Ministry of Internal Affairs, and were used as a tool to deter dissent.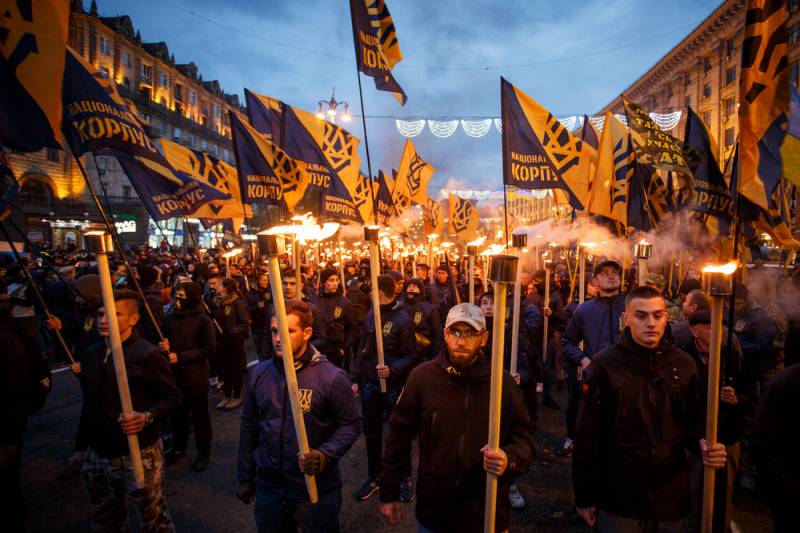 According to Ukrainian media, citing informed sources in the SBU, the new Ukrainian government intends to limit the influence of the Nazis and other radicals on the situation in the country.
One of the first steps was to stop financing the national battalions that were maintained by the Security Service of Ukraine.
Moreover, limiting the influence of the radicals was one of the conditions under which Arsen Avakov remained as head of the Ministry of Internal Affairs. And "the permanent minister, neither more nor less, oversaw the neo-Nazi regiment" Azov ", which has long been a real military unit.
According to sources, under the terms of the agreements, the head of the power department will have to take a difficult step for him and activate criminal cases against the most odious radicals. Such as, for example, the Odessa killer Sergei Sternenko.
In addition, Avakov must come to terms with the subordination to the President of Ukraine of the National Guard, of which the Azov mentioned above is a part.
Considering that the actions of Zelensky and his team clearly show the hand of the oligarch Kolomoisky, it can be assumed with great certainty that the Ukrainian Nazis and radicals will indeed be "stalled," but will not be completely written off, as useful idiots always come in handy for dirty deeds.