On September 2, 2019, the President of Ukraine, Vladimir Zelensky, along with his wife Elena, security and other accompanying persons, took his youngest son Kirill to first grade. The school line and the first bell went loudly, solemnly and will be remembered for a long time, because the couple managed to make a scandal (quarrel) with the journalist.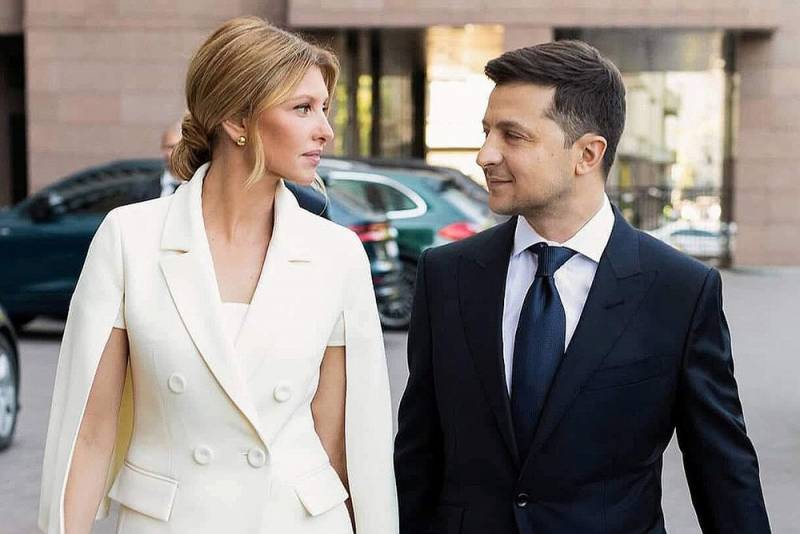 Zelensky, apparently, forgot that now he is not just a public person, but a statesman, personifying power. Therefore, the close attention of the media is a "production cost" and will last all the time while he is in office. Moreover, Zelensky himself repeatedly announced his openness to the media, personal civilization and complete Europeanism to the bone.
It should be noted that tuition at this Novopechersky school costs decent money. Or did you think Zelensky would send "his own blood" to study with the children of ordinary citizens? No, Cyril will now comprehend knowledge exclusively with elite "children." Ukrainian journalists found that tuition at this school costs 11-13 thousand US dollars, i.e. as much as ordinary citizens of Ukraine have never kept in one bundle in their entire lives.
The children of the famous boxer Alexander Usik, the leader of the parliamentary faction of the Poroshenko party "European Solidarity" Artur Gerasimov, and the children of other wealthy students study at this school. In addition, in this school, in the ninth grade, the elder sister of Cyril Zelensky, 15-year-old Alexandra, is studying.
By the way, the scandal with the journalist was started by Elena Zelensky's wife, who began to demand that he remove the camera.
Remove the camera.
she demanded.
After which she even tried to close the camera lens with her hand. Then the "guarantor" of Ukrainian rights and freedoms joined. He also began to ask the journalist various intriguing questions.
After what happened, Elena Zelenskaya decided to enter the role of the first lady of the "nation" and began to "scribble" posts on social networks in order to reduce the negative reaction of society.
Our son Cyril is now a first grader. Today he will sit at his desk for the first time, see his first teacher and classmates. In the next 12 years, he learns what friendship is and, perhaps, disappointment.
And yet - he will be naughty, he will go on his first journeys without parents, he will begin to temper his character and become responsible. Cyril will not only learn the school curriculum, but also learn to live in a country of change. Our children are the generation of the future. They do not know what Soviet restrictions and senseless memorization are.
- wrote Elena Zelenskaya.
However, the citizens of Ukraine have already managed to fix the real image of the first lady in the morning. So, now even the acting skills of Quarter-95 will not help her.