Recently we
Reported
as the Polish leadership remained almost in splendid isolation right before the event in Warsaw, dedicated to the 80th anniversary of the outbreak of World War II. Although before this, the Polish Russophobes, their Ukrainian "twin" and like-minded people from a number of other countries, expressed strong optimism that US President Donald Trump is now "lucky" to communicate exclusively with the "right" heads of state.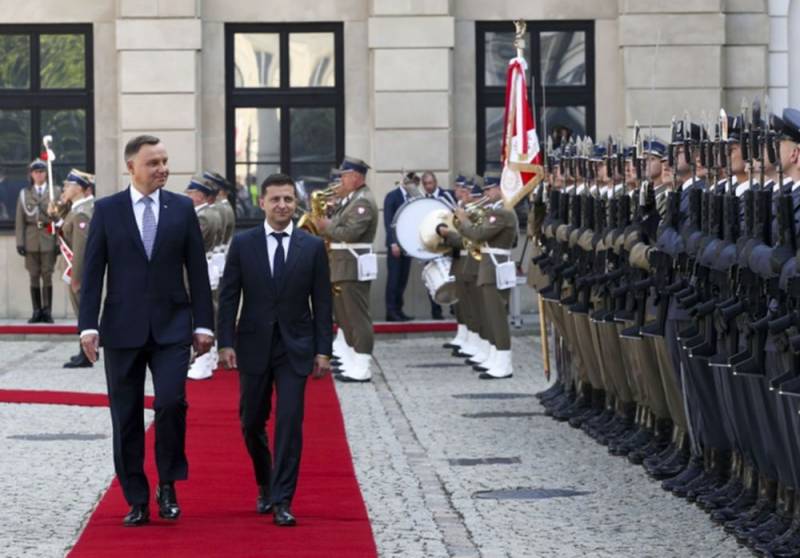 However, Trump refused a "fascinating" trip, he did not want to become an object of public relations for unimportant individuals. After that, the hopes of the President of Poland, Andrzej Duda, and the President of Ukraine, Vladimir Zelensky, to communicate with the owner of the White House, crumbled like a house of cards. They hoped to demonstrate the unity of "democracy" in the face of the "aggressor", but it did not work out. As the saying goes, the circus left, but the clowns remained, and now they have to improvise during the performance, the actors of which they themselves became.
Now the head of Poland is pretending that nothing terrible has happened and continues to carry the "patriotism" habitual for him to the masses. The world is already living in a new
reality
, and he continues to use remnants and formulations from the past.
For example, on August 31, 2019, Duda, meeting in Warsaw with Zelensky (who arrived there on an official visit), advocated maintaining the introduced anti-Russian sanctions. In addition, Duda expressed support for Zelensky regarding the territorial integrity of Ukraine and offered to treat Ukrainian soldiers wounded in the Donbas in Poland. It's hard to say who (after Trump's refusal) is worried about these on-duty and insignificant phrases, especially considering that the civil war in Ukraine has been going on for more than five years.