Over the past four years, American and Israeli media have regularly informed the public about the "incredible successes" of their military in the fight against Russian air defense systems. At the same time, the Israeli Air Force "accidentally" stopped appearing in the sky of Syria, and in the US Pentagon the tantrums about the acquisition of Ankara S-400 from Moscow do not stop.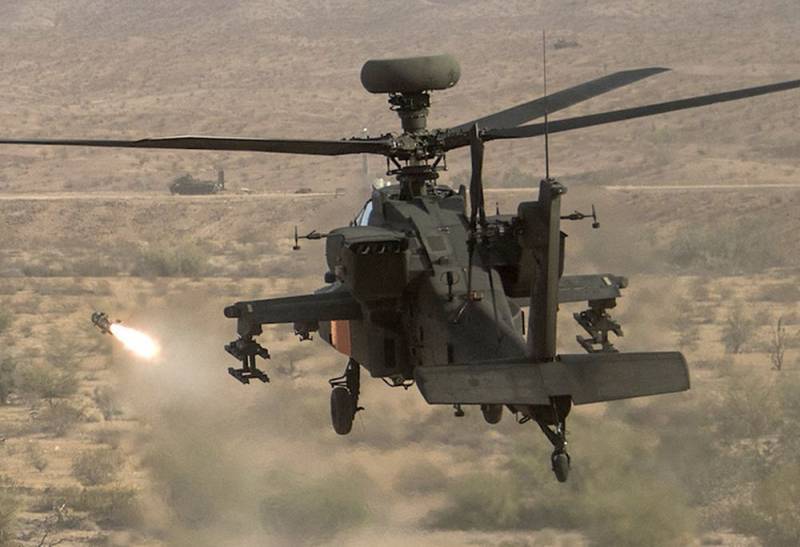 This time, it is reported that the U.S. Army conducted successful tests of the Spike Non-Line-of-Sight (NLOS) universal rocket, manufactured by the Israeli company Rafael. They allegedly hit a simulated target in the form of a ground-based Russian self-propelled anti-aircraft missile-cannon complex (SAM) "Shell-S1".
According to American sources, the tests took place on August 26, 2019 at the Yuma training ground in Arizona (USA). Then the attack helicopter AH-64 Apache, located outside the affected area of ​​the Panzer-C1 simulator (behind an elevation of about 490 meters), managed to launch the Spike NLOS rocket, which hit the target.
It is clarified that a few seconds before the target was hit, the helicopter's communication with the missile was interrupted, which made it possible to verify the ability of the ammunition to destroy the target in automatic mode. It is alleged that the experiment demonstrated not only the ability of the AH-64 Apache to control Spike NLOS, but also the ability of the helicopter to operate at low altitude. Surprisingly, no other important details or specifications were provided.
At the same time, on August 27 and 28, 2019, the U.S. military made one more launch of Spike NLOS with AH-64 Apache. It is emphasized that in this way they wanted to test the additional features of the Future Vertical Lift (FVL) program, which involves updating the U.S. attack helicopter fleet after 2030.
For example, Israeli Spike NLOS (claimed to have hit targets at a distance of up to 32 km.), Can complement the American high-precision missiles AGM-114 Hellfire and AGM-179 Joint Air-to-Ground Missile (JAGM), with a range of about 8 km. We remind you that in March 2019, at the West Palm Beach airfield in the state of Florida (USA), the first flight of the demonstrator of the multi-purpose high-speed helicopter Sikorsky Boeing SB 1 Defiant took place.