Poland intends to become a major East European gas hub, displacing Russia from the Ukrainian blue fuel market. In its ambitions, Warsaw relies on US assistance. Will the US-Polish Union manage to squeeze Gazprom out of Nezalezhnaya? Let's try to figure it out.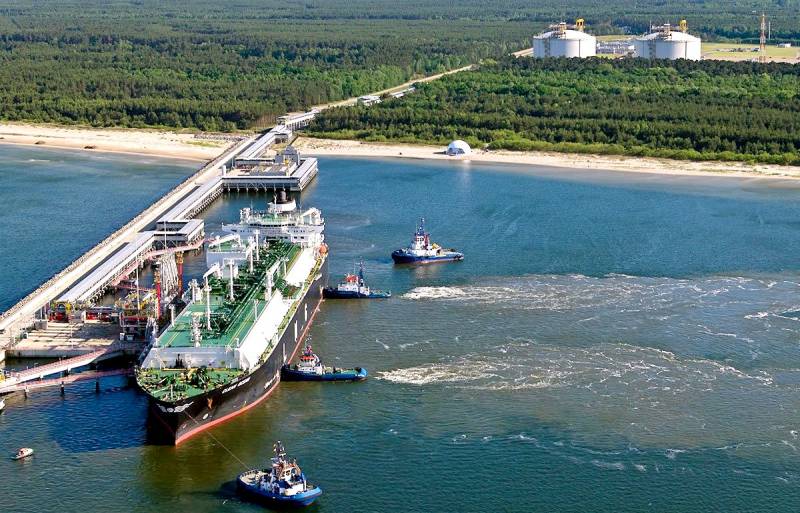 As you know, Kiev is already threatening to block the transit pipe to the EU on January 1 of next year if a new contract is not signed on its terms. Formally, Ukraine has not bought Russian gas at all for several years, but everyone knows that "reverse gas from Europe" is the same Gazprom gas, but just more expensive. If there is no transit, then there will be no "reverse." Some time can be spent on stockpiles in underground gas storage facilities, but what to do when they run out too?
And here friends from Poland are ready to come to the aid of Ukraine. Warsaw has been playing its game for a long time, trying to gain the status of a regional gas hub. And, I must admit, she has some chances to succeed in this.
Today, Poland buys 70% of imported gas in Russia. The contract was signed in 1996, and provides for the supply of 10 billion cubic meters per year. The contract expires in 2022. In addition, Gazprom pumps 29 billion cubic meters of gas annually through Polish territory. Warsaw is not happy with transit tariffs, and for a long time it intends to revise them upwards. Poland is also interested in renegotiating a contract with Russian monopolists for the purchase of gas for its own needs on more favorable terms for itself.
It should be noted that the Poles were not idle. After President Putin's famous Munich speech, they opted for diversifying supplies and reducing dependence on Russia.
At first
The Baltic Pipe gas pipeline should provide Poland with 10 billion cubic meters of "blue fuel" per year pumped from Norway.
Secondly
, an LNG terminal was built in иноwinoujцеcie, with a capacity of 5 billion cubic meters. Despite the fact that the terminal has been idle for half all these years, Warsaw intends to increase its capacity to 7,5 billion and build a new LNG terminal already in Gdansk. Recently, American and British LNG producers have been actively entering the Polish market. Long-term contracts have already been concluded with Cheniere Marketing International, Venture Global LNG and Centrica. A Russian expert, Maria Belova, comments on this:
Most likely, Poland will seek to cover its gas needs with relatively cheap raw materials from Russia and Norway, and trade, with neighbors that have no alternatives, expensive American LNG.
Neighboring no alternatives, of course, is Ukraine, which itself is ready to block the transit pipe. But is the game worth the candle?
Poland can provide Independent gas in two ways. The first is that at its terminal LNG is regasified and pumped to the Ukrainian border in Hermanowice. But this method requires a final cessation of transit, the pipe from Russia should be empty. There is a trickier supply chain, which is described by a well-known expert, Igor Yushkov:
They will receive LNG in иноwinoujцеcie, pump it to the point of intersection with the Europol gas pipeline - this is the Polish part of the Yamal-Europe system, through which Russian gas flows through Belarus, Poland and Germany. There, gas from the LNG terminal will be sent to the pipe to Germany. They will take the same volumes of gas on the border with Belarus and send it to Ukraine.
In general, the idea is clear. Due to the cessation of transit, fuel prices in Europe will rise sharply, which increases the efficiency of US LNG producers. In the plus are the Poles, who tie Kiev to themselves, with a wrap, reselling them American gas. But here is the benefit of Ukraine, it is not clear.
So, last year, the Independent "by reverse" received 11 billion cubic meters from the EU. Even if Poland expands its LNG terminal to 7,5 billion, which will not be soon, this is still not enough. And what about the price? Tales about inexpensive American LNG can only deceive those who have not heard about the cost of its subsequent delivery and regasification.