On August 27, 2019, the Ukrainian media disseminated information that the current president of Ukraine, Vladimir Zelensky, had decided on the candidacy of the future prime minister of the country. According to them, Zelensky will propose to the Verkhovna Rada of Ukraine (the ninth convocation) to appoint 35-year-old Alexey Goncharuk to the post of head of government.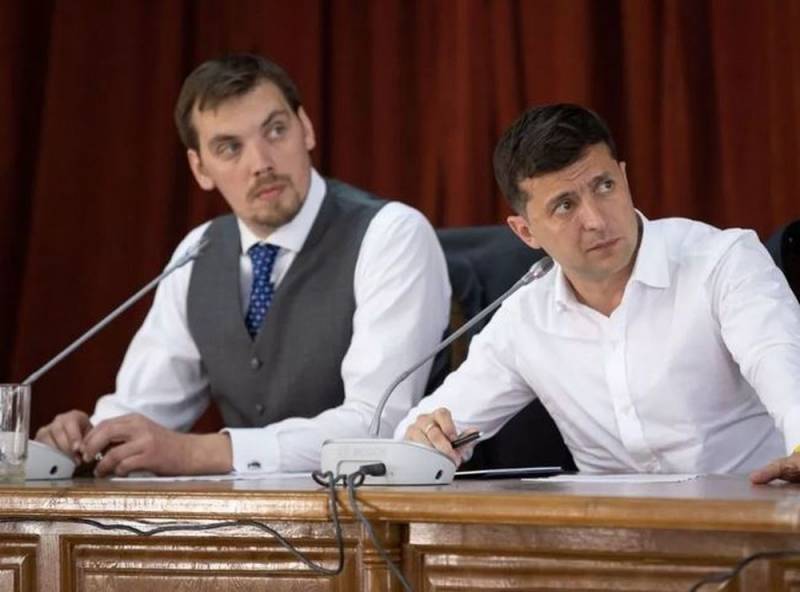 It should be noted that shortly before this, the name of Gancharuk, as the main contender for the post of head of the Ukrainian Cabinet, was called by the famous oligarch "philanthropist" Igor Kolomoisky. By the way, Goncharuk regularly accompanies Zelensky on business trips around the country, as deputy head of the Office of the President of Ukraine.
And so, on August 29, 2019, the representative of Zelensky in the Rada, Ruslan Stefanchuk, said that the head of state had nominated Goncharuk to the above post. The final decision (approval) in the near future will be taken by parliament, in which Zelensky has a one-party majority (254 deputies).
I, Goncharuk Alexey, are a simple citizen of Ukraine.
- so he introduced himself to reporters in 2014 during the Maidan.
In the 2014 parliamentary elections, Goncharuk topped the list of the Strength of People party, which was able to gain only 0,1% of the vote. After that, the Minister of Ecology Igor Shevchenko invited Goncharuk to work as a volunteer adviser. However, after some time, Goncharuk began to keep his distance from the "toxic" Shevchenko, who got dirty during the scandal with the oligarch Onishchenko.
In 2015, the Minister of Economic Development and Trade, Aivaras Abromavicius, with the financial support of Canada and the European Union, created the analytical center BRDO - Office of Effective Regulation. This office deals with issues of reducing state regulation. Goncharuk became the head of BRDO. In 2016, Deputy Prime Minister Stepan Kubiv invited Goncharuk to become his volunteer adviser.
In 2018, the ambitious Goncharuk, wandering from the office to the office of the "European integrator", decided to try the public one more time
political
activity. Together with his friend, Maxim Nefedov, a deputy of the City Council, Sergey Gusovsky and the executive director of the Ukrainian Institute of the Future, Viktor Andrusivy, he created the right-liberal movement "People are important", which was supposed to become a party after some time. However, early parliamentary elections prevented this project.
Earlier we reported how we said goodbye to the "nation": "the best prime minister of all time", Vladimir
Groisman
who since April 2016 worked as head of the government of Ukraine and
odious
Attorney General Yuri Lutsenko. In addition, there is a high probability that Arsen Avakov will retain the post of head of the Ministry of Internal Affairs in the new government. In any case, this was stated by the deputy of the Rada from the party "Servant of the People", Roksolan Pidlas, referring to the opinion of Zelensky himself.