Recently we
Reported
as Ukraine was preparing to celebrate the 28th anniversary of "independence". And now, it became known that on August 24, 2019, in Kiev, right under the arch of friendship of peoples, during the festival "Sport for All", a conflict arose between athletes (participants in the event) and Ukrainian "patriots" (Nazis) who came to campaign with anti-Russian slogans.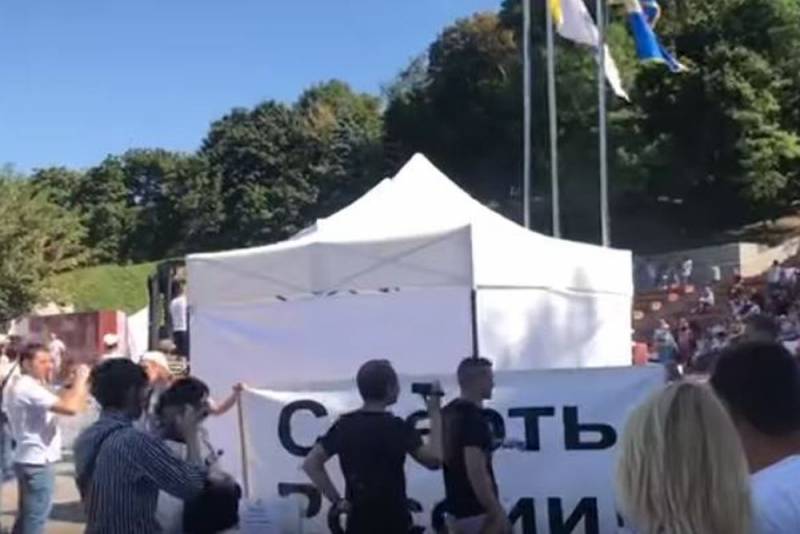 It should be noted that the athletes were frankly outraged by the defiant banner with the inscription "Death of Russia." One of the athletes with a strong physique approached the "patriots", absolutely unashamedly, and began to snatch a banner from their hands. They started calling the police. Several people in military uniform rushed to the aid of the "patriots", who tried to protect the "twin" from the athlete.
In turn, a man came to the aid of the athlete. He told the "patriots" that the area in front of the Peoples' Friendship Arch was leased by the Ministry of Youth and Sports of Ukraine for a specialized (sports) holiday. Therefore, there is no place for political slogans, because sport has no boundaries. So, it is not necessary to arrange provocations using anti-Russian posters and chants.
Ukrainian "patriots" advised athletes to leave for Russia, arguing that the war between our countries was allegedly going on. Athletes said that they won competitions in Russia. As a result, the conflict was resolved and the case did not come to the assault.