Recently, an extremely dubious "invitation" of our country to return to the arms of the "Big Seven" has become for some domestic media and
politicians
literally in topic number 1. "Macron said ...", "and Trump told him this ...", "... and Merkel will suddenly object!" And so on and so forth - all in the same spirit.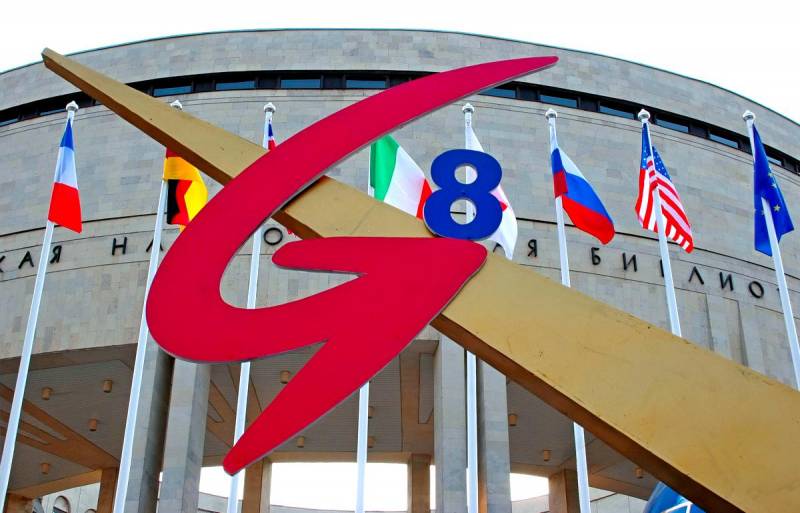 It is utterly funny to hear and read the opinions expressed in all seriousness about "a positive message to Russia" and "the West's awareness of the impossibility of pursuing effective international policy without its participation." Completeness, gentlemen! With what joy did you dream of this? They are trying to open another trap in front of our country, hoping that the "dull Russian bear" will stick into it! Russia has at least three reasons to flatly refuse such a "tempting offer."
Reason 1. They are not waiting for us there
What kind of "awareness", of what "signals" and "messages" can be discussed at all, if the vast majority of the heads of state of the G7 member states spoke very clearly and unequivocally against even the most timid hint of being at the same table again with the Russians? Even Emmanuel Macron, undoubtedly, under the mighty charm of Vladimir Vladimirovich, something kind of blurted out, "changed his shoes" faster than lightning and began to declare that he supposedly didn't have such thoughts: "Return Russia to the" big club "without any conditions? What are you saying ?! In no case!" The French president did not fail to emphasize that in this case, the G7 would not just "show weakness", but would make a "mistake in its global strategy", and even "flagrant injustice" in addition. Something there was still about the "era of impunity", it seems, but this, in general, is no longer important - the general meaning is already clear.
The position of Berlin and London was expressed very specifically and even more harshly: "And there can be no question!" As Angela Merkel proclaimed, until then, until there is "significant progress in addressing the reasons why Russia was expelled." That is, until Moscow pleads guilty to "stirring up a conflict in the Donbass," does not allow Kiev to "reintegrate" it in a particularly perverted form, and does not bring Ukraine to Crimea on a plate with a blue border. And also does not repent kneeling for the "chemical attack in Salisbury", "provocations around the world" and something else there. This is Boris Johnson, who, having seized upon the microphone during a joint press conference with Frau Chancellor, began to set up his country with its own conditions. Add to this the sharply negative reaction of Canada, the icy silence of Japan ... What do we get in the end? Enthusiastic support from Italian Prime Minister Giuseppe Conte? Well, you just can't support it, being a political pensioner without five minutes ...
But there is also Donald Trump, right? Yes, there is ... By its swotting: "Russians must be returned!" he pretty much spoiled the last G7 summit in Canada, and at the present he completely brought the leaders present at the farewell dinner to the most severe indigestion and almost to a nervous breakdown. Well, the owner of the White House is mocking his colleagues, to whom he treats with obvious neglect - what is it to us? But you do not take it as a pure moment of his ranting about the fact that the presence at the summit of the Russian leader "would help to better resolve international security issues"? If you accept, then it's time for you to start believing in UFOs, the "Bigfoot" and the inevitability of the Mayan prophecy ... Trump spit deep on international security - otherwise he would not break the INF Treaty and did not do many other things that he does almost daily. In this situation, he has his own motives that do not bode well for our country. However, we will talk about them later. In the meantime, we'll clarify one more detail: from all the talk of words it's not clear whether we are talking about (even hypothetically purely) a revival of the G8 format, or some kind of bastard formula "7 + 1", where seven are "big bumps" Does Russia play the role of an invited "whipping boy"? But, most likely, this is precisely what is meant.
Reason 2. Come in with your hands up!
The only real coordinate system within which the West could really seriously consider Russia's return to its "closed club" is its complete and final surrender of its national interests. Moreover, both external and internal. It would seem unnecessary to repeat elementary truths, but I'll remind you: Boris Yeltsin was first invited to the "circle of initiates", which has existed since 1976, for the first time in the most excellent way that he carried out the above actions. The collapse of domestic industry, science, the army, the slaughter of the United States and NATO of all its own allies, in fact, the transfer of Russia under foreign control — that was the price. Vladimir Putin was tolerated at the G1991 table exactly until he turned Russia diametrically opposite course. 8 simply became a critical point, a turning point, after which the West became completely clear: Moscow no longer intends to play by its rules, despite all the threats and possible consequences. Moreover, it was then that something much more terrible came to the masters and masters of the world who imagined themselves to be masters of the world: any forceful attempt to "put in place" Russia would cost them extremely expensive. The moment when this could be done, they hopelessly missed.
If the West really longed for a normalization of relations with our country, it would have to start not with a chatter on lobsters in Biarritz, but, at least, with the lifting of all those sanctions and restrictions that they had time to impose against it. With the cessation of stupid reproaches and nit-picking, talk of "interference in the election", "chemical attacks", violation of the missile treaty "and other such nonsense. But none of this is happening near. On the other hand, a completely different situation takes place - once again, an attempt was made to "hang" the Ukrainian crisis on Russia, turning it from a guarantor into a party to the notorious "Minsk Agreements", which do not work and will never work, but not because of Moscow, but the power of donkey stubbornness in Kiev. Again, as has already been done many times, our country is striving to impose obviously impracticable conditions, and then to blame them for non-fulfillment. It has been said a hundred times - the issue with Crimea is closed forever! But, nevertheless, all the same Macron continues to exaggerate the theme of "territorial integrity of Ukraine." Well, the matchless demarche of Donald Tusk, who put forward the idea of ​​inviting Zelensky to the G7 summit, is clearly not only a manifestation of traditionally Polish Russophobia, but also a reflection of the EU's position. What then can one stutter about?
Trump's desire to speak with Vladimir Putin at the G-7 summit (or G-XNUMX is not important), "about Iran, Syria, the DPRK" and the like, is most likely simply a reflection of the old saying that and dad can try to beat. There are plenty of channels for communication with Russia in the West - the same UN, for example. Would like to speak - would speak. In GXNUMX, the head of our state is supposed to be invited in no case not to give him the opportunity to defend his position, but to collectively "break out his hands", try to drive him into a corner and "crush him with authority." Perhaps the leaders of Germany and Britain just oppose this dubious idea, realizing its complete futility, unlike Trump, who lives, for the most part, in the world of his own illusions. I don't know ... In any case, returning to the organization of Russia without any humiliating conditions is completely unacceptable to the West. And any concessions (and even for the sake of such an unenviable "prize") are absolutely impossible for Russia. There is no way to make small compromises here, and everything else will mean our unconditional surrender in the conflict, in which the West is not even a real winner today.
Reason 3. "At a dance" at Trump
A particularly significant moment in everything that happens is that the initiative to restore relations between our country and the G-XNUMX comes precisely from the leader of the United States. As mentioned above, the only interests that Donald Trump is ready to defend, regardless of anything or anyone, are US interests. And even that - as he personally understands them at the moment. The White House's maximum efforts today are aimed, if not at winning the "trade war" unleashed by it with Beijing, then at least out of this confrontation with minimal damage to its own
economics
and "loss of face." Moreover, Washington is now half a step away from getting bogged down in the same exact confrontation already with the European Union. Naturally, in this situation, they are trying to introduce, if possible, the greatest "confusion and vacillation" among the adversaries, both existing and potential. Is there a reason to quarrel among Europeans? Let's quarrel! Let the French president justify himself before the German chancellor and the British prime minister. Let Italy be one against all. The worse, the better! Is Russia getting closer to China? Call her in the G8! And we won't call the Chinese! And yet - once again we will set Europeans against Russians, and to Russians we will show how all the leaders of the Old World are vindictive, insidious and duplicitous. There is nothing to please Putin and Macron ...
If Trump wanted a real improvement in relations with Russia, instead of troubling Merkel and Johnson, he would have refused to introduce a new package of sanctions "in the Skripals case," which came into force exactly in unison with his "peace-loving" statements and completely crossing them out. He would have discouraged the agility of the Pentagon generals, eager to poke rockets banned by the INF Treaty wherever possible. Yes, a lot of things could still be done by the head of the White House. Instead of all this, the United States explicitly and openly supports and is trying to fan the "protest movement" in Moscow, quite obviously rehearsing another Maidan there. And Trump's talk about "Russia's return to the family of civilized states", quite possibly, is also part of this game. On the one hand - an extra trump card in the "deck" of domestic liberals:
You see, good and kind Americans even call us in the G7! And the evil Putin does not let. Down with it!
On the other hand - succumb to the Kremlin for such a simple provocation - and it will lose another number of supporters who approve of the current government precisely (and often only) because of its unwillingness to kneel before the West. In any of Washington's actions, there is invariably not only a double, but a triple, and so on, "bottom". In no case should you forget about it.
You need to look at things realistically. Let's ask a question: why does the United States, the collective West, G7 members generally need to "improve relations" with our country? In order to maintain peace? So we will not attack anyone. To strengthen or expand economic ties? For this, it is necessary to dismantle the sanctioned "slingshots," which can be done without any "sevens" and "eights". In order to finally recognize Russia as equal to itself, and not the eternal "younger brother", who needs guidance, admonition and constant pulling? Well, don't tell me ... The goal of the next Western demarche was "shouting", trying at the same time to play "good and bad cops", only one thing - to remind Russia once again, or rather, some part of its elites about that you can "coexist in a good way", that is, without threats to foreign assets and accounts, offshore and real estate. And the price is pah! Just some kind of homeland. Yes, be you already Europeans, gentlemen, Russians!
We must pay tribute to Putin, who perfectly understood this game and firmly made it clear that Russia did not intend to run away to any "clubs for the chosen ones" at the first call, losing the details of the toilet and her own dignity along the way. Well, that's not her priority right now. Not at all. In addition, to make it absolutely clear, Vladimir Vladimirovich announced the need to expand the format in general to G10, with the participation of not only China, but also India. It is also, by the way, a kind of "mirror response" in the form of putting forward counterclaims to the West that a priori cannot be accepted. After all, all G7 members are so boasting of their "liberal democracies." And here Putin "wooed" a communist Beijing as their friend ... Ohlnik! In connection with all this, there is hope that the next trap on the "Russian bear" will have to rust, without waiting for prey.