Domestic floating nuclear power plant went to its permanent location. On August 23, the towing of the Akademik Lomonosov ship to Chukotka began, where the newest FNPP will replace the Bilibino NPP and the Chaun TPP.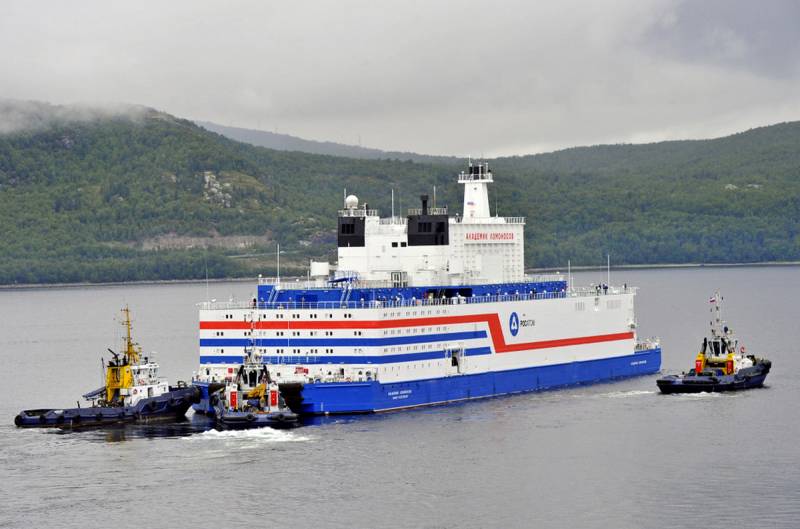 Recall that the project of the Russian floating thermal power plant was developed back in the mid-2000s. The rack-mount vessel Akademik Lomonosov, on which two KLT-40S reactors were assembled, assembled by OKBM named after Afrikantov, and two steam turbine units manufactured by KTZ OJSC, were laid in 2007. In 2018, the FNPP, created by Baltiysky Zavod JSC (St. Petersburg), was towed to the Atomflot enterprise in Murmansk, where it loaded nuclear fuel.
Since the Akademik Lomonosov, whose length is 144,2 meters, its width is 30 meters, and its displacement is 21500 tons, is not a self-propelled craft, two tugboats will deliver it to the place of deployment. The speed of this will be about 8 km / h.
The launch of the FNPP is scheduled for December this year. The ship provides cabins for staff (about 70 people). The life span of a floating power unit is 35–40 years, with ongoing repairs being carried out without shutting down the reactor and factory, every 10–12 years. The capacity of this power plant will be enough to provide electricity to about 100 thousand consumers.