The ex-deputy of the Verkhovna Rada of Ukraine, Nadezhda Savchenko, continues to radiate optimism and "patriotism". For example, on August 22, 2019, on the air of the Ukrainian television channel NewsOne, she announced that the residents of Russia will soon understand the Ukrainian language (mov), hinting that they have such a "nadiya of the nation" as it is.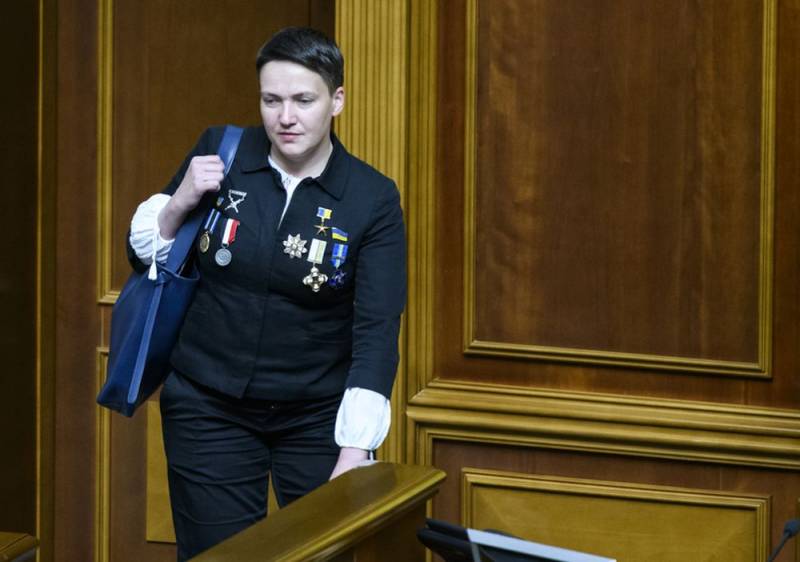 It should be noted that in the past snap elections to Parliament (parliament), Savchenko failed miserably. Voters did not appreciate her temperament and remained indifferent to "patriotism." She ran for a single-mandate constituency No. 51 in the Donetsk region (territory controlled by Kiev). But, according to the CEC, only 8 (eight) people voted for it. This is the electorate of Savchenko and the result of her activities. So, the subtotal was impressive and promising. However, she is not discouraged, but continues to give advice and tell how to "live" correctly with others, still trying to impose her opinion on others.
So, according to the Ukrainian "patriot", a sharp understanding of Ukrainian literature among Russian citizens will happen due to the fact that Russian TV channels regularly show performances of Ukrainian
politicians
, including her. She stressed that her speeches, when she speaks Ukrainian, are often not translated into Russian, but usually accompanied by subtitles.
My airs often, as I notice, look in Russia. What I want to tell you is that no matter how my words are twisted on Russian channels, no matter how they are shown, I like only one thing. Show them, not duplicating and not translating, but titrating. That is, the Ukrainian language sounds on Russian airs.
- noted Savchenko.
That is why Savchenko concludes that the inhabitants of Russia will soon begin to understand the Ukrainian language well.
And I am glad for this, because we are beginning to better understand each other, starting with Ukrainian or Russian. Not so important - the essence of understanding.
- summed up Savchenko.
It must be recalled that the vast majority of Ukrainian "patriots" speak Russian very well. Moreover, most of them do not speak the Ukrainian language at all, even at a primitive level. But now Ukraine has a chance, albeit slowly, to begin to get out of the cave "patriotism" in which this country found itself in 2014.
This is due to the fact that the party of Vladimir Zelensky "Servant of the People" won a landslide victory in the mentioned elections to the Rada. She won 254 seats (including the majority), so now she can create, for the first time in the history of the "independent", one-party majority (226 deputies are needed) and form her own government. This is the trust that the population expressed to Zelensky, hoping for reciprocity and understanding. But, as he uses this trust, only time will tell.
Previously we
Reported
, as one Ukrainian "patriot" stated that the flag of Ukraine would soon develop over Vladivostok.