Dostoevsky said that the Russian people are distinguished by "a thirst for truth and justice." The Russian man is patient, but for the sake of justice, "ready for any sacrifice," added Fedor Mikhailovich. Unfortunately, in recent years, the question of social justice has ceased to be a philosophical one and has become a fundamental issue of national security.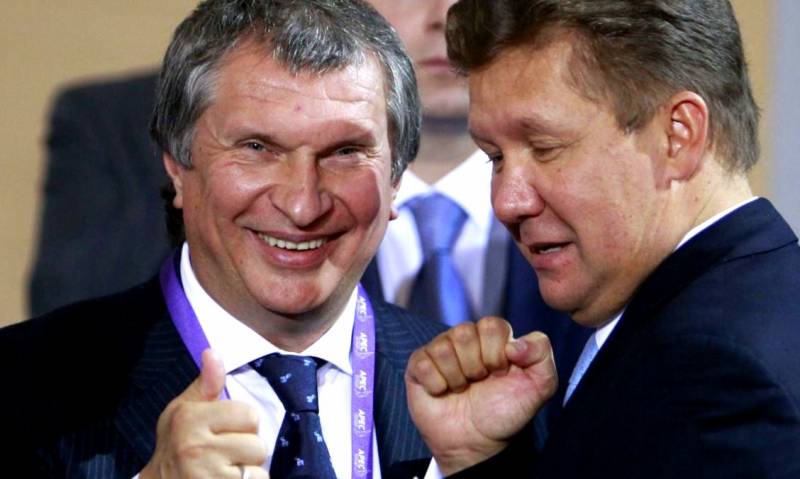 Our esteemed President, usually calm and confident, feels noticeably awkward when answering a question about the salaries of officials and heads of large state-owned companies.
In short, this is what he said in a straight line:
1. In certain sectors, managers receive 10 times more ordinary employees.
2. If they are paid less, they will go to foreign companies or to a private business.
3. These companies have foreign employees, from whom the compensation grid is built.
And here the President a) is disingenuous, b) not up to date. We choose the option according to political taste.
first
The heads of state-owned companies receive not 10 times more ordinary employees, but thousands of times.
Fresh example. For six months, Rosneft paid remuneration to the management (and there are only eleven of them) 2,36 billion according to the results of the first half of 2019. We divide 2,36 billion for 11 people, and for 6 months, and we get 35 million per month. On average, everyone earns more than a million per day. It is clear that the head of the company receives several million rubles a day.
The situation is similar in other state-owned companies. It is no secret that often their colleagues in Western countries earn less in their respective posts. At the same time, ordinary Russians, taxpayers, are increasingly perplexed: why the hell are the "great managers" - officials with families and mistresses are eating at our expense, buying yachts, building castles in Russia and abroad and ordering maids with "kits"? These are state-owned enterprises, aren't they?
Second
It is clear that as senior managers in the West, nobody needs them. If suddenly I am mistaken, and they will be torn off there with hands, we will see the price of their Russian patriotism, expressed in US dollars.
Domestic private business will not pay hired managers that much under any circumstances, except for lobbying purposes or under the threat of political pressure. But these are not systemic, but situational circumstances. Well-known heads of state corporations - irreplaceable managers? Are you seriously? In Russia, everything is so hopeless with the staff? According to the Accounts Chamber, in Roscosmos alone, in 2017, it wasted 760 billion rubles of national money!
At the same time, I admit and sincerely hope that not all of the money was greedy for a grab, part of it could go for good purposes, including new scientific and defense developments or weapons. Out of budget, but according to plan, so to speak. Otherwise, it is impossible to explain how a person, by will or negligence involved in causing great damage to the state, was appointed the Outstanding Manager from the post of Great Curator, and continues to work in the direction and manage many high-tech enterprises. Well, you know less - nerves are stronger. Perhaps that is why the leadership of high-tech industries is entrusted to journalists, and not to specialized engineers or scientists.
Similar stories with Rusnano, Rosguardia, Rostec and other flagship organizations. A lot has been written about embezzlement, low productivity, but quite effective tax evasion by some of them.
However, such a system can only be temporary. Initially, corruption in state and municipal governments helped Putin buy the loyalty of officials and strengthen discipline. This can be understood and even accepted. But if you don't start to fight it systematically, corruption will destroy the maternal system itself. Will eat it like termites from the inside. Unfortunately, the purchase of the loyalty of the apparatchiks and the oligarchs continues, as before, with the money of the poor, but only by direct extraction of funds. This is despite the fact that the need for this has disappeared a long time ago, especially after the Russian spring of 2014, when the President, relying on the people, could carry out any reforms or staff appointments.
One of the oligarchs said that it is impossible to redistribute the money of billionaires in favor of the people, since this is dishonest (!). But it's quite "honest" to take money from the poor in favor of the rich, which, with the highest blessing, has been carried out actively since the 2018 election.
According to the Federal State Statistics Service, in the country below the poverty line are 26% of children, and in large families - more than 52%. Does the state punish them for their contribution to solving the acute demographic problem? This is poverty, it is starving and sick children, the funds for the treatment of which we collect the whole compassionate world. Here is a little Mashenka - this is a real case - the good Israeli doctors agreed for two million to have surgery. Ours are not good enough or competent, or is it just that the state does not care about children?
The third
Serving the interests of foreigners is a basic component of our since Yeltsin's
economic
policy
, as ordinary as harmful to the development of Russia. Are these aliens ordinary managers or untouchable coordinators from the global administration? Is it for them that our state enterprises work?
President seeks growth points
Stop searching already, they have long been found. There are many of them, but here we are talking only about one thing: a more equitable social redistribution.
Property disparity and the ensuing restriction of effective demand significantly hamper the development of the economy. The redistribution of salary nets in favor of low-paid employees and tax changes - both for citizens and small and medium-sized businesses - will lead to explosive growth in demand for everyday and deferred goods, and economic growth.
Most importantly, it will help to avoid a split in society, new revolutions and new victims, even for the sake of a noble goal - the struggle for justice.
Power respects spiritual bonds
We also respect the braces and support the conversation about spirituality with the words of God spoken through the prophet Isaiah (5; 7-16) by those in power:
Woe to you, adding a house to a house, connecting a field to a field, so that there is no place for others, as if you alone were settled on the earth ... these many houses will be empty, large and beautiful - without inhabitants ... but the netherworld has expanded ... and their glory will go down there and their wealth, and their noise, and all that amuses them.