Recently we
told
why airline tickets for Russian Sukhoi Superjet 100 (SSJ-100) airliners turned out to be 20% more expensive on average than on similar routes for foreign airliners. And so, it became known that the Mexican airline Interjet, the last foreign (foreign) airline operating the SSJ-100, is going to sell these aircraft.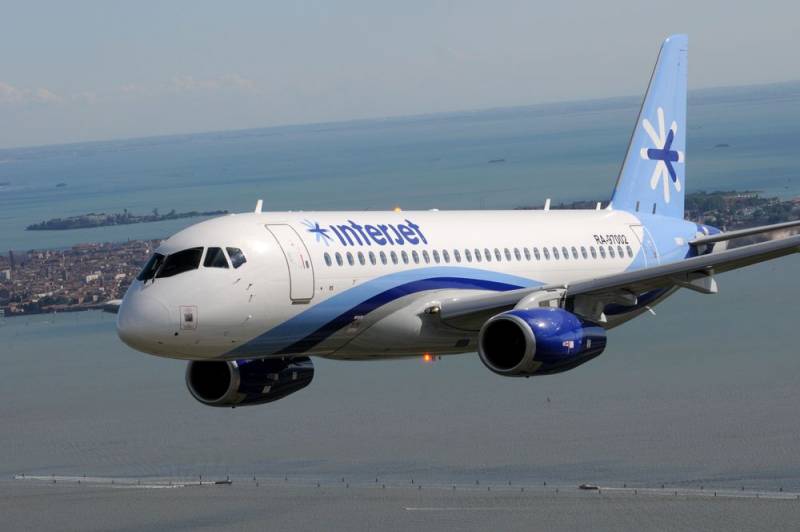 It should be noted that the Interjet fleet has 22 SSJ-100 airliners. In total, the company ordered 30 such aircraft, but in April 2019 refused to purchase the remaining eight pieces. In May 2019, Interjet reported that they used only five of the available SSJ-100s.
Now, according to some sources in the aviation industry, Interjet wants to sell 21 SSJ-100s, since one was damaged and it is unlikely to be sold. Other sources say the company wants to sell 14 aircraft, or as much as they can.
The Mexican airline explains its decision with a difficult financial situation. In 2016-2017, the peso collapsed (the currency of Mexico), jet fuel (kerosene) went up, and the company began to lose competition. At the same time, in 2015-2016, Interjet demonstrated a Superjet raid up to eight to nine hours a day.
In turn, the Sukhoi Civil Aircraft (GSS) denied such media reports. It is clarified that we are not talking about the abandonment of the SSJ100 aircraft and their return, as the issue of partial remarketing of aircraft is being worked out. This is due to (a change in the intensity of operation of the SSJ100 in Interjet) - the state of the transport industry in Mexico as a whole. At the same time, proposals have already been prepared to improve the performance of the SSJ-100.
Who will be right - GSS or the media, we will find out in the foreseeable future.