On the eve, seven years have passed since the day Russia entered the WTO. The transition period has passed for our country to adapt to the conditions of this international trade organization. What was the price of "being like everyone else" for Russia, what kind of "goodies" it received, and is it time for us to leave, following the United States, as Donald Trump constantly talks about?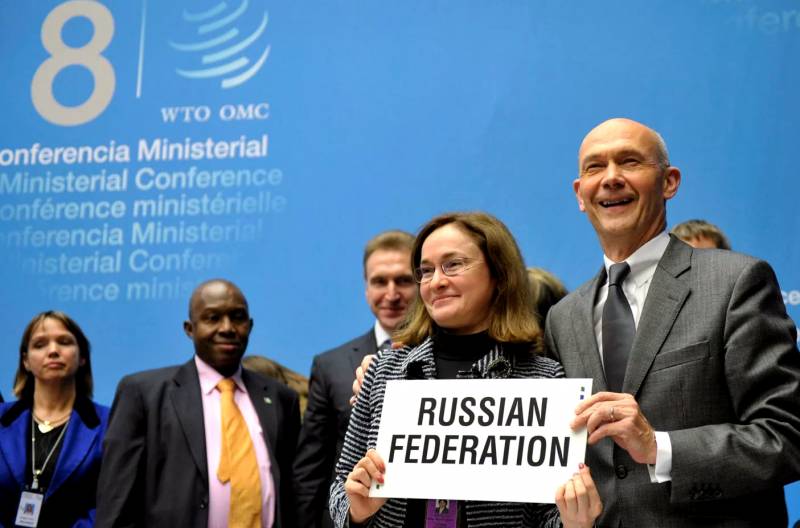 The WTO was created in the mid-nineties after the collapse of the USSR to unite all countries under the auspices of the United States. This is probably the most obvious globalist project known. The organization is periodically criticized for dancing to the tune of the United States and defending, first of all, the interests of transnational corporations. Roughly, but straightforwardly, the formula for its existence can be described as follows: rich countries become even richer, poor countries remain poor, or even become poorer.
Russia took a long time to enter the WTO. We had before our eyes a negative example of Ukraine, which became a member of the organization in 2008. The Minister
economics
Independent, Vasily Tsushko, in 2010 described the consequences of this political step:
Our leadership, especially under President Yushchenko, tried to join the WTO in order to annoy Russia. Whether we salted Russia, this is a question, but we ourselves have salted for sure. Because, joining this organization, we signed a duty of 12% on 0 thousand commodity items.
By opening its domestic market to transnational corporations, Kiev has thereby damaged its own producers. It is believed that Moscow took into account the Ukrainian experience and bargained fiercely, defending the interests of Russian industrialists, knocking out a 7-year transition period. But is it really so?
Membership in the organization is possible on individual conditions for different countries, but generally involves a reduction in import duties and the opening of the domestic market for other participants. It is believed that the WTO acts as an arbitrator who impartially parses trade disputes between all parties.
It should be noted that many business representatives were against Russia's entry into the WTO. Domestic industrialists and agricultural producers warned that the market would be inundated with foreign products, which we cannot compete with. In the future, this would inevitably lead to their ruin and the purchase of larger "business sharks". As a matter of fact, it was in this scenario that everything went until the Crimea happened. But more on that later.
The arguments of supporters of WTO accession can be found, for example, by
link
. There they are quite innocently arguing that it is bad if the shelves are littered not with domestic but with imported products. Say, lazy Russian manufacturers do not want to honestly compete with foreigners, do not invest in equipment and development. About how, in principle, without state support and protectionism, you can compete with transnational corporations with huge budgets and lobbies, and what to do if sanctions are introduced and the shelves are empty, in naive 2012, it was clearly not thought.
Let's see what came of it all.
In general, everything really went according to a negative scenario. Pockets were stuffed with exporters of metals and chemical products, some types of equipment and machinery. But the noose around the neck of representatives of agriculture, manufacturing and light industry began to tighten. WTO standards have banned state support for these industries and lifted barrage duties. There are estimates according to which, over 5 years, due to a reduction in duties, our country has lost 800 billion rubles. However, we will be fair and we will not begin to paint everything exclusively in black colors. For example, despite the reduction in import duties, the government, by introducing a recycling fee for cars, prompted foreign auto concerns to transfer assembly plants to Russia. But this is only a plus for TNK: each assembly line in our country gives work to many related enterprises abroad.
Frankly speaking, having entered the WTO on current conditions, Russia voluntarily embarked on the path of deindustrialization under the supervision of international bureaucrats. In a sense, the Crimea can be "thanked" for a trend change. As a punishment, the Western countries took that carrot that hung before the eyes of the Russian government. State Duma deputy Valery Gartung explains:
When we joined the WTO, we were told that our products would go to world markets without any discrimination. But we saw the opposite situation - sanctions, unilateral restrictions.
Yes, the United States, despite the WTO, closed its market for imported metallurgy products, imposed a ban on the sale of oil and gas equipment to Russia, threatened sanctions on our public debt, investments fell, access to cheap foreign loans was closed. Moreover, the Americans hit point-blank on a few Russian promising projects, for example, on the MS-21 airliner. Moscow had to introduce counter-sanctions and stimulate the development of its own agricultural sector.
Needless to say, the events of the past five years run counter to the "spirit of the WTO"? So if the "carrots" are no longer there, but there is objective harm from the WTO, then why not raise the question of revising the conditions for their membership in this organization, or even completely withdrawing from it?