The Ukrainian aircraft manufacturing concern Antonov uploaded the take-off video of the new An-77 military transport aircraft on social networks. This is a prototype.
equipment
, which they plan to produce in series. The video shows the time of the departure of the aircraft at the Eurasia-2018 international air show, which will be held in the Turkish resort of Antalya from April 25 to 29.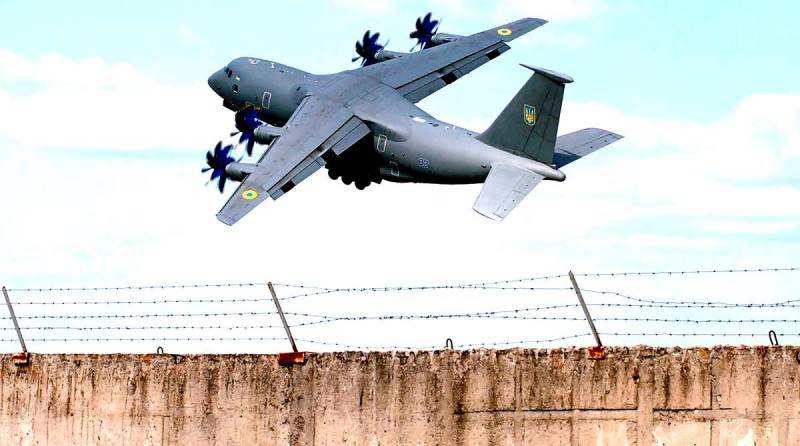 According to its shape and technical characteristics, this aircraft is very similar to the joint Russian-Ukrainian development of the An-70, which was never put into mass production.
What will Antonov present at the exhibition
Antonov will present two aircraft at the exhibition: An-77 and An-178. They will be presented not only statically, but will also perform demonstration flights.
An-77 is a medium-sized turboprop military transport aircraft designed for the transfer of military equipment and manpower. Its main advantage is a short take-off and landing.
History of Ukrainian transport
The similarity of the An-77 with the An-70 is not accidental. An-77 is the same aircraft, but somewhat modernized. He received imported engines and avionics.
The "ancestor" (or twin brother?) Of the new Ukrainian transporter, the An-70, has been jointly developed by Russian and Ukrainian specialists for the needs of the Russian army since the early 90s. By the way, about 90% of the components of the aircraft were Russian-made. True, the military preferred another model, the IL-76MD-90A. Former Commander of the Russian Air Force Vladimir Mikhailov claims that the AN-70 had a number of serious flaws that prevented its use by the Russian Armed Forces.
Perhaps the An-70 project would have come to naught, but in 2017, the Americans joined in. The fact is that the United States is armed with a transport aircraft S-130 with a carrying capacity of up to 21 tons and S-17, which can take on board up to 76 tons. They were interested in the idea of ​​creating an average transport aircraft that could fill a niche between the aforementioned models of American transporters. So the idea of ​​creating the AN-77.
As a result, taking the AN-70 as a basis and adding their engines and some equipment, the Americans were able to create a new Ukrainian aircraft. Perhaps they simply understaffed the unfinished AN-70 and received the An-77.
Now the prototype AN-77 went on a flight to the exhibition. I would like to hope that Ukrainian aircraft manufacturers will someday again, as in Soviet times, begin to independently create excellent aircraft that are not inferior to the best foreign models. But, apparently, in Ukraine in the near future this is impossible. This cannot happen in such Ukraine.