Recently we
Reported
as US President Donald Trump wanted to return Russia to the GXNUMX, supporting his Frenchman, Emmanuel Macron, in this. And now, Russophobes in Kiev already express dissatisfaction and indignation at the post in Russian, which was written by Macron, after a meeting with Russian leader Vladimir Putin.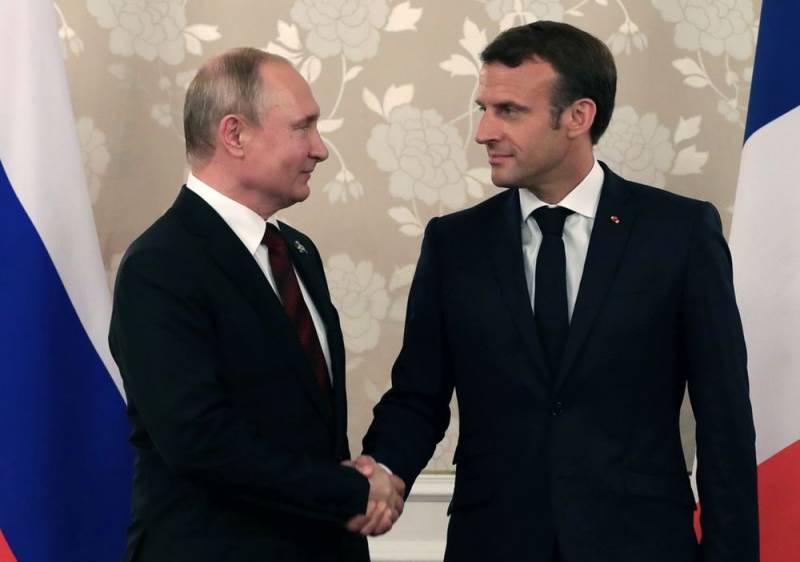 For example, Irina Gerashchenko, who was elected to the new Verkhovna Rada of Ukraine (passed according to the quota of the party "European Solidarity" by Petro Poroshenko), the former deputy speaker of the parliament of the previous convocation, accused European leaders of flirting with the Kremlin and "mimicking Putin under Putin" on her Facebook on August 20, 2019. "
The meeting of Putin and Macron. Putin is not just being helped to save face, everything is much worse. European leaders mimic Putin. They are silent about European values, including respect for the human rights and territorial integrity of neighbors, they noticed the brutal dispersal of demonstrations in Moscow and the killing of Ukrainian soldiers. In the modern world, there is a shortage of Churchill and De Gaulle, which is why Putin and Co. are comfortable here.
We Ukrainians understand that the world will not fight for us. But we are categorically against deciding the fate of Ukraine for us. In France, Ukraine was discussed without us
- wrote Russophobia.
After that, Gerashchenko gave her forecast for the near future and he is absolutely not happy for the "European nation". It turns out that in the near future certain "humanitarian movements" can be expected, for example, the exchange of prisoners. After that, Europe will force Kiev to certain political decisions and security and border issues will not be resolved. Moreover, in January 2020, sanctions will be lifted from Russia, as many were impressed by the prospects for Europe from Lisbon to Siberia. At the same time, in Siberia "dozens of our best are in prison", but Europe is not interested.
This will take full advantage of Putin. Ukraine is not its last victim
- summed up Gerashchenko.
It should be noted that the majority of Ukrainian "patriots" are in solidarity with Gerashchenko. So the ex-Foreign Minister of Ukraine Volodymyr Ogryzko has already stated that Macron's position is disadvantageous to Kiev. In addition, the fact that the issue of the "Ukrainian crisis" was discussed without the participation of representatives of Ukraine does not add optimism to the "patriot".
Unfortunately, here we do not have to expect that something high and great will fall on our heads. You have to fight for your happiness
- Ogryzko told the Ukrainian media.
It should be recalled that after the meeting of Macron and Putin in France on August 20, 2019, Ukraine experienced an unprecedented agitation of "patriots". The social pages of the "nation" simply exude a real information poison. Moreover, they are all convinced that if the process is not urgently interrupted, then in the foreseeable future "Russia from Vladivostok to Lisbon" may appear.