The world's most powerful heavy rocket Space Launch System (SLS) will be fully assembled by the end of this year. This was announced on the eve of the vice president of the United States, Michael Pence. In turn, the director of NASA, James Brydenstein, added that today the device is 90% ready and in December it will be tested.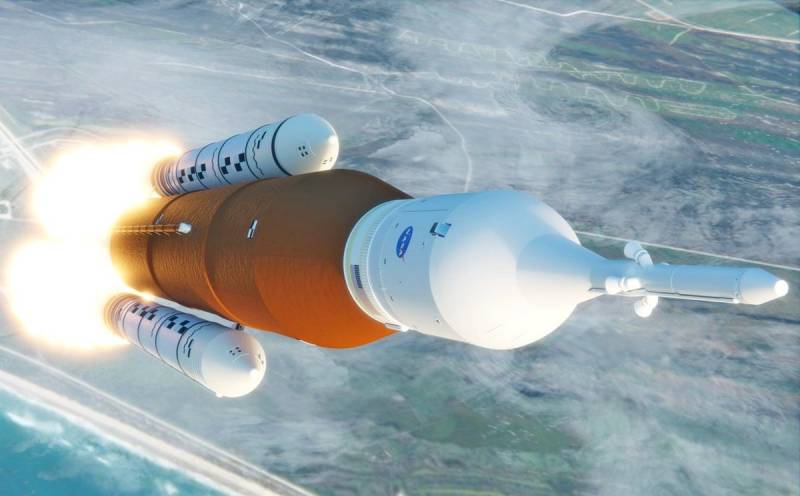 Recall that the creation of the superheavy rocket SLS is part of the American program Artemis, aimed at returning astronauts to the moon. A test unmanned flight of a promising rocket with the latest Orion ship was supposed to take place in 2019, but then it was postponed to the second half of 2020. Later, Brydenstein announced a possible revision of the launch dates, but did not specify the details.
Space Launch System - a superheavy rocket, consisting of two stages, at the time of launch, it may become the most powerful carrier in the world. It is assumed that the device at the initial stages will be able to put up to 95 tons of payload into the reference orbit. In the future, as the system develops, this indicator is planned to be increased to 130 tons.
The first stage of the device will be equipped with four marching RS-25D / E engines (used on Space Shuttle shuttles). The second, depending on the modification, will receive two or four RL-10B-2 units. Two accelerators will operate on solid fuel engines with a total thrust of 32 MN.
In 2024, NASA plans to make a manned flight of the Space Launch System to our natural satellite with the landing of astronauts. And, approximately in the mid-2030s, SLS together with the first "Martian" crew can go to our "red neighbor".