Recently we
Reported
how the Ukrainian authorities frantically and nervously prepared for a two-day official visit to the "independent" Israeli Prime Minister Benjamin Netanyahu and as the wife of Israeli Prime Minister Sarah, in fact
insulted
Ukrainians. And so, some details of the communication between the President of Ukraine Vladimir Zelensky and the Prime Minister of Israel became known.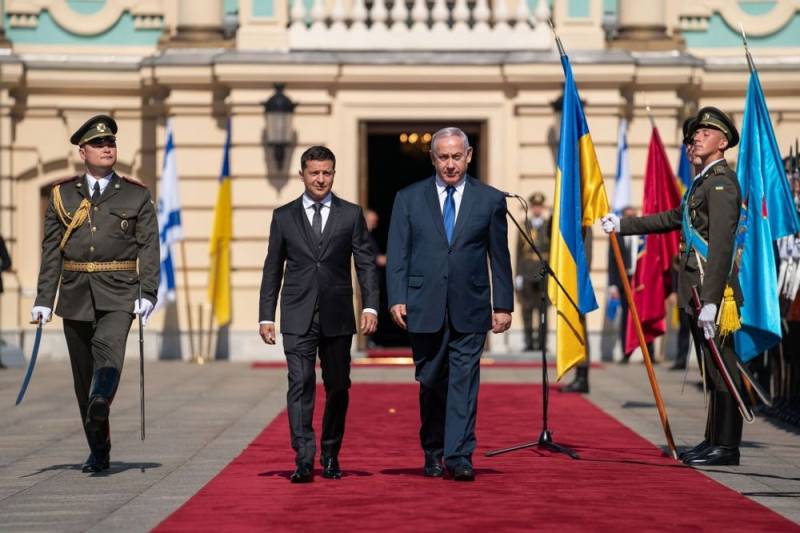 Guided by the long-standing traditions of "patriotism" (since the time of Yushchenko), Zelensky suggested Netanyahu recognize the Holodomor of Ukrainians in 1932-1933 as genocide. But Netanyahu did not respond to the "tempting" offer. But he suggested Zelensky to visit Israel on a return visit.
Honoring the eternal memory of the victims of the Holocaust, in which more than 2 million Ukrainian Jews died, Ukraine calls on Israel to also recognize the Holodomor as an act of genocide of the Ukrainian people.
- Zelensky said right at a joint press conference with Netanyahu.
I want to invite you to Jerusalem ... If not next (week), then very soon. We invite you to our capital!
- answered Netanyahu Zelensky.
By the way, fans of Zelensky have already called the speech of the new "guarantor of the nation" historical. It is also reported that Zelensky "resolutely and definitively" dealt with the problem of mass denials to Ukrainian citizens who are persistently trying to cross the border with Israel.