Recently we
Reported
about how an international scandal arose between Ukraine and Israel related to the extradition by the Ukrainian special services of the Israeli drug lord, Amos Dov Silver. Now it became clear why Kiev was so nervous and in a hurry to extradite no later than August 18, 2019. Indeed, in the evening of this day, the Prime Minister of Israel, Benjamin Netanyahu, along with his wife Sarah, was supposed to arrive on the territory of "non-territory".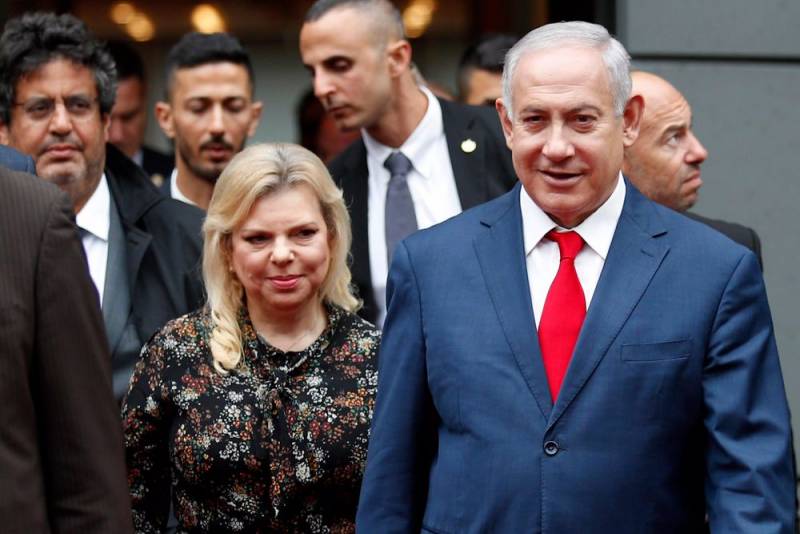 In the morning of August 19, 2019, a meeting was held between the President of Ukraine Vladimir Zelensky and the Israeli Prime Minister. However, the Israeli and Ukrainian media paid more attention not to this event, but to the events that occurred on the eve and were associated with the person of the Prime Minister's wife.
For example, Israeli News informed the public that Sarah Netanyahu first disgraced herself at the airport of departure. To begin with, she, not embarrassed by those around her, began to loudly express her complaints to the commander of "board number 1" for the fact that he allegedly did not greet her properly when boarding the plane. But this temperamental lady did not calm down. She jumped up from her seat and tried to break into the cockpit. The bodyguards (security guards) of the Prime Minister did not let her into the cabin, which made her even more angry. After which the woman began to have a tantrum that did not go through the entire flight.
In this regard, the commander of the "board number 1", 45 minutes before landing in Kiev, once again greeted those on board the aircraft, emphasizing the personal presence of Sarah Netanyahu.
We wish the head of government and his wife, Ms. Sarah Netanyahu, a successful visit.
- emphasized the commander of the aircraft.
But this did not affect the mood of the prime minister's wife, after which she began to demonstrate her "civilization" already in Kiev. Being right at the plane's gangway at Kiev airport, where the distinguished guests are traditionally greeted by girls in national costumes with a loaf of bread and salt, Sarah Netanyahu made a real international scandal, demonstrating her frank disregard for the meeting party.
After Benjamin Netanyahu tried the offered treat, he plucked a piece of bread for his wife. Sarah took a piece of bread, and then squeamishly threw it to the ground. All this happened in front of the journalists who were stunned by the surprise and who did not find words to comment on what had happened.