Recently we
Reported
about how Russia conducted large-scale military exercises "Ocean Shield - 2019". And so, on August 19, 2019, a video appeared on the Web with elements of combat training of crews of high-altitude fighter-interceptors MiG-31BM Pacific Fleet naval aviation stationed in Kamchatka. The footage shows how the training is conducted to intercept the "intruder" of the airspace of Russia (the enemy) in the stratosphere.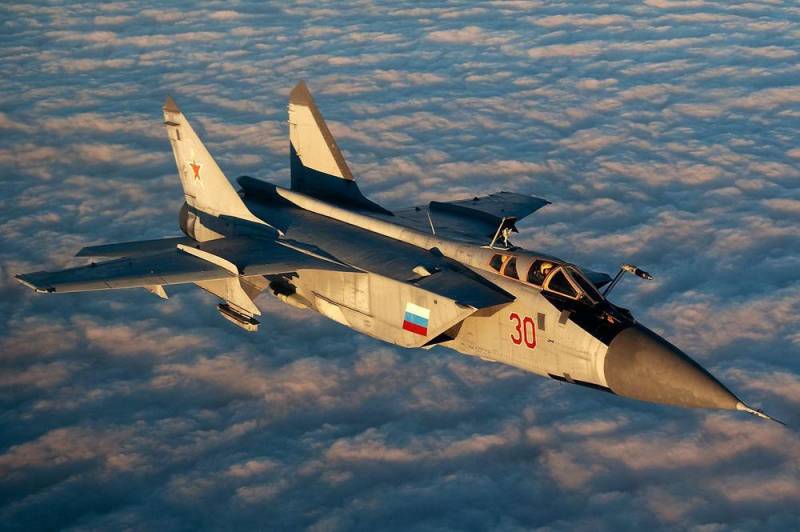 For the first time in aerial combat on a practical ceiling, new modernized high-altitude fighter-interceptors MiG-31BM took part.
- Transmitted the channel "Star" statement of the press service of the Eastern Military District (BBO).
It is reported that the flight took place at an altitude of 20 km. at a speed of 2500 km / h. At the same time, the crew searched for the enemy without involving ground-based air defense systems. By the way, the "intruder" was one of the MiG-31BM, which was supposed to penetrate at maximum speed into the airspace of Russia in the lower layers of the stratosphere, reach a given point, and then avoid probable pursuit. In turn, the second MiG-31BM searched for and intercepted the "intruder".
For clarity, the MiG-31 is a two-seat all-weather supersonic high-altitude long-range interceptor fighter (according to NATO codification "Foxhound" - "Fox Hound"). Produced from 1975 to 1994. Its practical ceiling (height) is 21,5 km, dynamic - up to 30 km. In turn, the MiG-31BM is its upgraded version since 1998.
It should be recalled that 2,5 years ago, on February 17, 2017, the Zvezda channel already reported something similar. True, then the crews rose to a height of 21 km. and no one reported about the "first time."